Engagements corporate des marques
Designed To Move - A physical activity agenda to fuel the future. Starbucks Coffee Company. Back to the Start. The Foundation. The UNHATE Foundation, desired and founded by the Benetton Group, seeks to contribute to the creation of a new culture against hate, building on Benetton's underpinning values.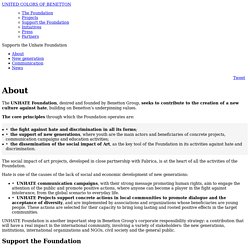 The core principles through which the Foundation operates are: - the fight against hate and discrimination in all its forms; - the support of new generations, where youth are the main actors and beneficiaries of concrete projects, communication campaigns and education activities; - the dissemination of the social impact of Art, as the key tool of the Foundation in its activities against hate and discrimination. The social impact of art projects, developed in close partnership with Fabrica, is at the heart of all the activities of the Foundation.
Hate is one of the causes of the lack of social and economic development of new generations: Covoiturage avec IKEA. Le Mobile Monday. Des rencontres dédiées aux professionnels de la mobilité Créé en Finlande en septembre 2000, l'objectif des Mobile Mondays est de favoriser la coopération et le développement de partenariats internationaux, au travers de rencontres physiques mais aussi virtuelles lors desquelles s'échangent idées, bonnes pratiques, connaissances et tendances liées à la mobilité et venues du monde entier.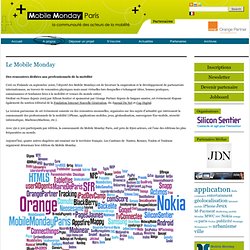 Décliné en France depuis 2005 par Silicon Sentier et sponsorisé par Orange Partner depuis de longues années, cet événement dispose également du soutien éditorial de la Fondation Internet Nouvelle Génération, du Journal Du Net et Cap Digital. La version parisienne de cet événement consiste en des rencontres mensuelles, organisées sur des sujets d'actualité qui intéressent la communauté des professionnels de la mobilité (iPhone, applications mobiles, jeux, géolocalisation, convergence fixe-mobile, sécurité informatique, Machine2Machine, etc.).
---