Jérémy Chardy
Le site officiel de Jeremy Chardy. Jérémy Chardy participe du 3 au 10 janvier au tournoi de Brisbane (Australia) 1er tournoi de la saison et première victoire pour Jérémy Chardy.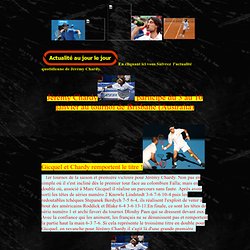 Non pas en simple où il s'est incliné dés le premier tour face au colombien Falla; mais en double où, associé à Marc Gicquel il réalise un parcours sans faute. Après avoir sorti les têtes de séries numéro 2 Knowle Lindstedt 3-6 7-6 10-4 puis les redoutables tchèques Stepanek Berdych 7-5 6-4, ils réalisent l'exploit de venir à bout des américains Roddick et Blake 6-4 3-6 13-11.En finale, ce sont les têtes de série numéro 1 et archi favori du tournoi Dlouhy Paes qui se dressent devant eux. Avec la confiance qui les animent, les français ne se désunissent pas et remportent la partie haut la main 6-3 7-6. La fiche de Jérémy CHARDY. Tennis. Jeremy Chardy. Began playing at age six...Father, Guy, is a banker; mother, Maryse, is a housewife...Older sister, Stephanie (31), is a French teacher and older brother Thierry (28), is a banker...Soccer fan of Paris Saint-Germain...Idol growing up was Pete Sampras...Considers serve as best shot...Would like to be an actor after his tennis career...Captured Wimbledon junior Championships (d.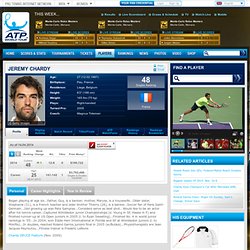 Young in SF, Haase in F) and finished runner-up at US Open juniors in 2005 (l. to Ryan Sweeting)...Finished No. 4 in world junior rankings in '05...In 2004, won Eddie Herr International in Florida and SF at Wimbledon juniors (l. to Monfils)...In doubles, reached Roland Garros juniors final in 2005 (w/Bubka)...Physiotherapists are Jean Jacques Peyroutou...Fitness trainer is Frederic Lefevre. Chardy DEUCE Feature (Nov. 2009) Jérémy Chardy. Un article de Wikipédia, l'encyclopédie libre.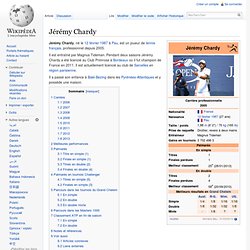 Jérémy Chardy, né le à Pau, est un joueur de tennis français, professionnel depuis 2005. Il est entraîné par Magnus Tideman. Pendant deux saisons Jérémy Chardy a été licencié au Club Primrose à Bordeaux où il fut champion de France en 2011. Il est actuellement licencié au club de Sarcelles en région parisienne.
---