CSS
Burst Title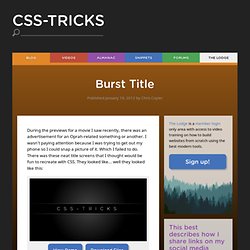 Published by Chris Coyier During the previews for a movie I saw recently, there was an advertisement for an Oprah-related something or another. I wasn't paying attention because I was trying to get out my phone so I could snap a picture of it. Which I failed to do.
Published by Chris Coyier Elements can have multiple class names. For instance: Then in CSS, you could match that element based on any one of them:
Multiple Attribute Values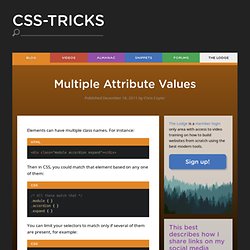 Checkbox Hack ✿ dabblet.com
Adobe-like Arrow Headers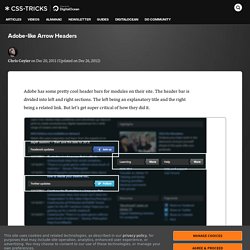 Published by Chris Coyier Adobe has some pretty cool header bars for modules on their site. The header bar is divided into left and right sections. The left being an explanatory title and the right being a related link.
Let's say you're browsing Google Web Fonts for a free font to use on your website. You find one you like... You think it will look nice as headings on your site. So you follow the directions on Google Web Fonts "quick use". 1) Copy/Paste CSS link to page: 2) Copy/Paste font-family CSS to your headings CSS:
Public Service Announcement: Watch Your @font-face font-weight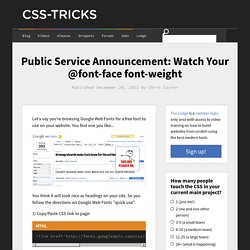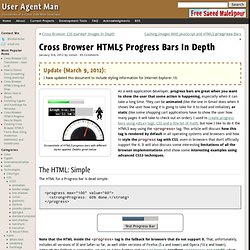 Update (March 9, 2012): I have updated this document to include styling information for Internet Explorer 10. Screenshots of HTML5 progress bars with different styles applied. Details given below.
(Better) Tabs with Round Out Borders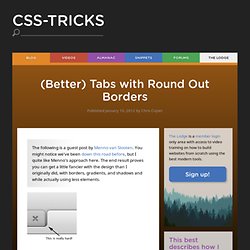 Published by Chris Coyier The following is a guest post by Menno van Slooten. You might notice we've been down this road before, but I quite like Menno's approach here.
HP has a new logo! And they can do it in CSS
postcard from Paris – css3 keyframes animations in use | PeHaa Blog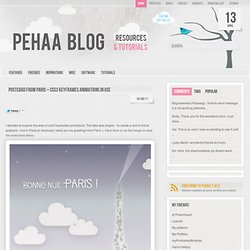 postcard from Paris – css3 keyframes animations in use I decided to explore the area of css3 keyframes animations. The idea was simple – to create a sort of virtual postcard. I live in Paris so obviously I send you my greetings from Paris :). Click here or on the image to view the animation demo.
Intro to CSS 3D transforms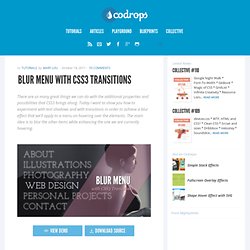 There are so many great things we can do with the additional properties and possibilities that CSS3 brings along. Today I want to show you how to experiment with text shadows and with transitions in order to achieve a blur effect that we'll apply to a menu on hovering over the elements. The main idea is to blur the other items while enhancing the one we are currently hovering. View demo Download source
When applying CSS3 inset box-shadow or border-radius directly to the image element, the browser doesn't render the CSS style perfectly. However, if the image is applied as background-image, you can add any style to it and have it rendered properly. Darcy Clarke and I put a quick tutorial together on how to use jQuery to make perfect rounded corner images dynamically. Today I'm going to revisit the topic and show you how much more you can do with the background-image CSS trick. I will show you how to use box-shadow, border-radius and transition to create various image styles. View Demo Image Styles
CSS3 is here, it's fun, and allows us to evolve the look of the web as we go. Features like gradients, drop shadows, rounded corners, animations, and opacity are giving us the promise of more fun. In this post we've collected some new and brilliant tutorials that will help you in mastering your CSS3 skills.