Knitting and crochet
There are currently no images from other crafters. close Terms & Conditions You must enter into this Agreement if you want to submit digital images or other content to Prime Publishing through Sharing Customer Images (the "Service"). As used in this Agreement, "we" or "Prime Publishing" means Prime Publishing, LLC. and "you" means the individual or entity submitting materials to Prime Publishing. Any individual or entity that wants to use the Service must accept the terms of this Agreement without change.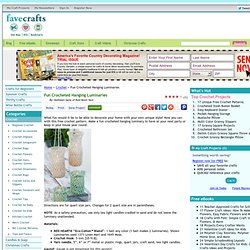 Fun Crocheted Hanging Luminaries
Leaf Afghan
[ Close Privacy Policy ] Privacy Policy / Your California Privacy Rights Revised and posted as of March 4, 2013 Prime Publishing, LLC ("Company," "we" or "us") reserves the right to revise this Privacy Policy at any time simply by posting such revision, so we encourage you to review it periodically. In order to track any changes to this Privacy Policy, we will include a historical reference at the top of this document. This Privacy Policy will tell you, among other things: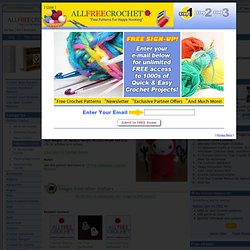 Amigurumi Devil Outfit
[ Close Privacy Policy ] Privacy Policy / Your California Privacy Rights Revised and posted as of March 4, 2013 Prime Publishing, LLC ("Company," "we" or "us") reserves the right to revise this Privacy Policy at any time simply by posting such revision, so we encourage you to review it periodically. In order to track any changes to this Privacy Policy, we will include a historical reference at the top of this document. This Privacy Policy will tell you, among other things:
Free Six Pointed Star Christmas Ornament Knitting Pattern
Free Projects Home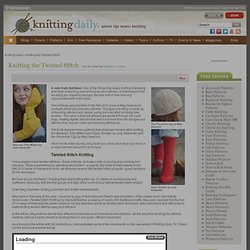 A note from Kathleen: One of the things that keeps knitting interesting and fresh is learning new techniques and stitches. In Interweave Knits we bring you inspiring designs, but also lots of new learning opportunities with each issue. One of those opportunities in the Fall 2010 issue is Meg Swanson's in-depth article about twisted stitches. This type of knitting is made up of traveling stitches and cables, using just one stitch crossing over another.
Knitting the Twisted Stitch - Knitting Daily - Knitting Daily#video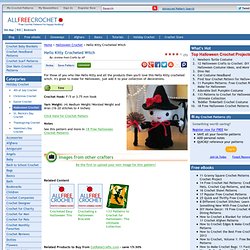 [ Close Privacy Policy ] Privacy Policy / Your California Privacy Rights Revised and posted as of March 4, 2013 Prime Publishing, LLC ("Company," "we" or "us") reserves the right to revise this Privacy Policy at any time simply by posting such revision, so we encourage you to review it periodically. In order to track any changes to this Privacy Policy, we will include a historical reference at the top of this document. This Privacy Policy will tell you, among other things:
Hello Kitty Crocheted Witch
Mary Go Round crochet flower ring tutorial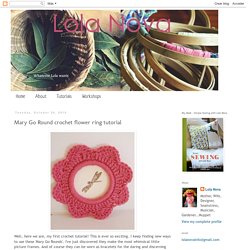 Well, here we are, my first crochet tutorial! This is ever so exciting. I keep finding new ways to use these 'Mary Go Rounds'. I've just discovered they make the most whimsical little picture frames.
Whimsical Castle Pattern
[ Close Privacy Policy ] Privacy Policy / Your California Privacy Rights Revised and posted as of March 4, 2013 Prime Publishing, LLC ("Company," "we" or "us") reserves the right to revise this Privacy Policy at any time simply by posting such revision, so we encourage you to review it periodically. In order to track any changes to this Privacy Policy, we will include a historical reference at the top of this document. This Privacy Policy will tell you, among other things: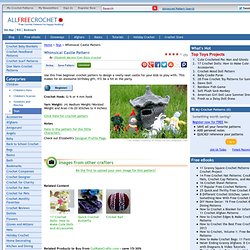 DROPS Design ~ Gratismuster
Welcome to Knitting Pattern Central--an often updated online directory featuring precisely 15,743 links to free knitting patterns & tutorials. Choose from 50+ categories, including clothing, hats, afghans, stuffed animals, toys, dishcloths, and much more. Begin browsing by category at the Free Knitting Pattern Directory or by keyword using KPC's site search feature:
Free, Online Knitting Patterns - Beginner Knitting Instructions - Knitting Tips, Tricks, Testimonials and More!