Concept and desighn
About this site. Shop - upon a fold. Furniture Fashion Online Home Magazine. Green Building Elements. Moroccan Lanterns, Moroccan Lighting, Moroccan Lamps, Moroccan mosaic, Moroccan design, Moroccan style, Toronto, Ontario, Canada. Non solo Kawaii. Gajitz. Dornob. Contemporary Design Portal / Daily Blog. With the concept of the Reversed Process Furniture Philipp Aduatz is trying to rethink and reinvent his process of designing objects by flipping the order of the design stages.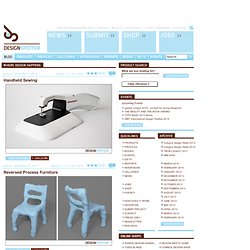 His aim is to create objects with a distinct sculptural character by using an experimental approach on the design process. Designer: Philipp Aduatz (Austria) Manufacturer: Philipp Aduatz (Austria) Inspired By: Design Process Material: wood, metal, polystyrene-foam, papier mâché, resin, lacquer Colours: pastel colors Dimension: Chair: 55 x 50 x 80 cm, Stool: 35 x 34 x 36 cm, Table: 60 x 65 x 47 cm, Lamp: 35 x 21 x 125 cm Price: on request.
Exploring Tomorrow. Whether you are baking them at home or buying them from the store, cupcakes seem to be a welcomed treat by many.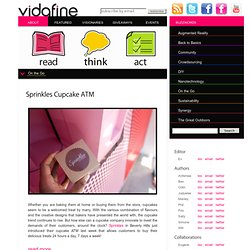 With the various combination of flavours and the creative designs that bakers have presented the world with, the cupcake trend continues to rise. But how else can a cupcake company innovate to meet the demands of their customers, around the clock? Craftgawker | look to inspire. Dwellinggawker | focus on form. Green design will save the world | Inhabitat.
RECLAIMED OLD WINDOWS GREENHOUSES…. - redesign, craft, diy, upcycling, recycling, reuse, architecture, sustainable lifestyle, do-it-yourself, creative environmental options, craft, organics, gardening, planting, flower pots, reusing, o. Industrial design courses ? designboom. Apr 19, 2014 the sound collection was produced for preciosa lighting and it comes alive with music to create a glowing, » 35 shares apr 18, 2014 the motion photography prize has been the first global open entry competition for artists and creative people » 49 shares.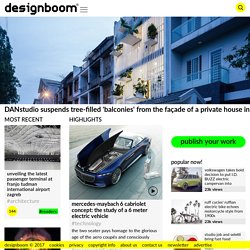 Beautiful | Beautiful Life - creative design, beautiful art and luxury lifestyle. Design Swan - DesignSwan.com. Curbly | DIY Design Community. Apartment Therapy. WHATtheCOOL. Design.
---