Handheld learning
iPad Published on June 16th, 2013 | by Rebecca Stacey 2 in Share iPads in Primary Lessons – A guest post by Rebecca Stacey Before we begin it's worth bearing in mind that at no point have I ever recommended that a lesson be planned purely teaching how to use an iPad, or indeed teaching how to use an an app.
Mark Anderson's Blog | education, learning & technology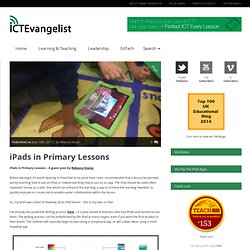 Mark Anderson's Blog | education, learning & technology
Begin here: By all means bookmark Bloom's Taxonomy of Apps - there is a k-12 (not annotated, and largely over grade 5) list of apps, a page for each level on the hierarchy - and also K-5 iPad Apps According to Bloom's Taxonomy , which covers elementary grades. iPad Apps and Bloom's Taxonomy at Langwitches Blog is also a place to begin. Highlighted: The iPad As... - sensible listing of apps organized by iPad learning goals . You will probably want to add additional goals as you build your program, but this is a great listing to use when starting up.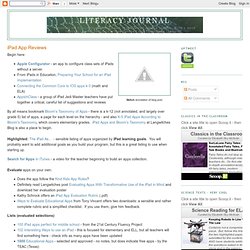 Literacy Journal: iPad App Reviews
How does Systems Manager work? Systems Manager lets you configure, monitor, and support devices in your organization. 100% cloud based, Systems Manager eliminates costly, complex management appliances and software. To get started, simply create a Meraki dashboard account and enroll your devices in Systems Manager.
Your experience on this site will be improved by allowing cookies - see details « Inspiring article about iPad and cerebral palsy Setting up a passcode »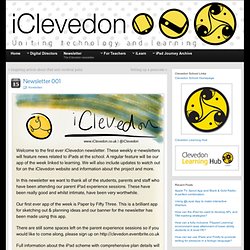 Newsletter 001 » iClevedon
Vote for 2012 Top 10 LiveBinders!
The mobile classroom
Will schools go for iPads? | Kerry Turner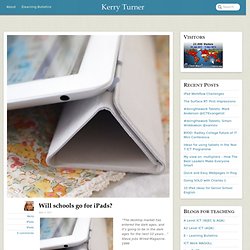 Kerry ⋅ Uncategorized ⋅ iPad ⋅ 5 comments Image by chibiayu "The desktop market has entered the dark ages, and it's going to be in the dark ages for the next 10 years…" Steve Jobs Wired Magazine. 1996 Approximately 3 years ago there was one very useful piece of information I took away from an ICT strategy meeting I attended; don't invest money in static computer suites – the future of technology is mobile.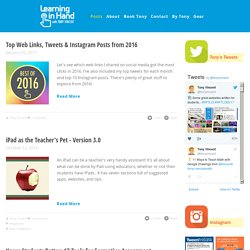 When you think of iPads in schools, you probably think of a cart that's wheeled into a classroom. Youngsters cheer at the arrival of the cart. Devices are passed out, used for a lesson, and then returned to the cart. The cart is then whisked away to another classroom where the same thing happens.
The use of mobile phones in the classroom doesn't have to be limited to under the table texts. Photograph: www.alamy.com In an interview earlier this year Education Secretary Michael Gove hinted that he would like to see mobile phones banned in schools. Claiming they lead to "disruption" and can be used for bullying, Mr Gove bracketed mobile phones and iPods in the same category as weapons such as knives. Many objected to this broadside with an online petition . As a former Director of E-Learning, teacher for seven years, and current educational researcher, I have witnessed transformational learning experiences where mobile devices such as iPods and mobile phones have been key.
How to use mobile devices in the classroom | Teacher Network Blog | Guardian Professional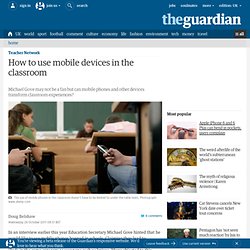 essential-ipad-guide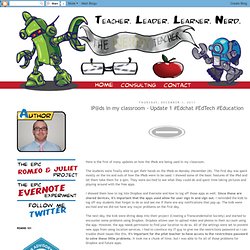 Here is the first of many updates on how the iPads are being used in my classroom. The students were finally able to get their hands on the iPads on Monday (November 28). The first day was spent mostly on the ins and outs of how the iPads were to be used. I showed some of the basic features of the iPad and let them take them for a spin. They were excited to see what they could do and spent time taking pictures and playing around with the free apps. I showed them how to log into Dropbox and Evernote and how to log off those apps as well.
iP@ds in my classroom - Update 1 #Edchat #EdTech #Education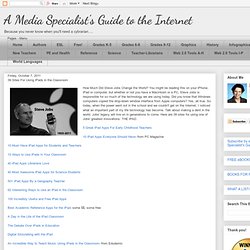 A Media Specialist's Guide to the Internet Because you never know when you'll need a cybrarian..... Enter your email address: