CPD
50 Must-Download Apps For Lifelong Learners. Long after degrees have been conferred and careers have been launched, many folks just can't seem to quit school.
For them, life provides an overstuffed cornucopia of educational opportunities that don't necessarily require hefty loans and navigating different professorial strategies. Those with a lust for learning who happen to also enjoy testing the limits of what the iPad offers definitely don't have to worry about finding resources to pique their fancy. Hundreds, if not thousands, of apps are out there just twitching for users to fire them up and absorb a mental nugget or two. History and Geography World Atlas HD : iPad users can download this stunning, popular digital atlas by the National Geographic Society and educate themselves about the planet's physical and cultural properties and relationships.
EdTech: 100 Tech Tools for Teachers and Students. This post is #12 in DailyTekk's famous Top 100 series which explores the best startups, gadgets, apps, websites and services in a given category.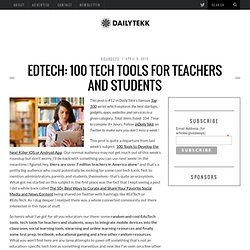 Total items listed: 104. Time to compile: 8+ hours. Follow @DailyTekk on Twitter to make sure you don't miss a week! This post is quite a departure from last week's subject: 100 Tools to Develop the Next Killer iOS or Android App. The 100 Best Education Blogs on the Internet - Bloggers. By Will Roby Education blogs are some of my favorite blogs to read.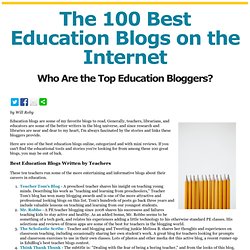 Generally, teachers, librarians, and educators are some of the better writers in the blog universe, and since research and libraries are near and dear to my heart, I'm always fascinated by the stories and links these bloggers provide. Here are 100 of the best education blogs online, categorized and with mini reviews. If you can't find the educational tools and stories you're looking for from among these 100 great blogs, you may be out of luck.
Best Education Blogs Written by Teachers. Top 10 Technology Blogs for Education. Editor's note: This is a cross post from College Online where "The Innovative Educator" is named in the top ten ed tech blogs list.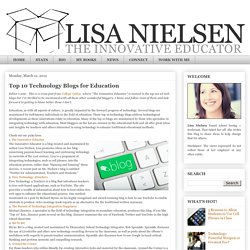 I'm thrilled to be mentioned with all these other wonderful bloggers. I know and follow most of them and look forward to getting to know better those I don't. Education, as with all aspects of culture, is greatly impacted by the forward progress of technology. Born to Learn ~ You are Born to Learn.
---