Apps
5 iPad Apps Every Teacher Should Have. Just to wrap up our week of apps for teachers here are some favourites that will make your iPad a little more productive in the classroom.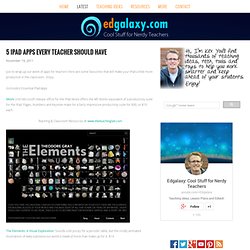 Enjoy iWork Until Microsoft release office for the iPad iWork offers the MS Works equivalent of a productivity suite for the iPad. Pages, Numbers and Keynote make for a fairly impressive productivity suite for $30, or $10 each. Teaching & Classroom Resources @ www.theteachinglab.com The Elements: A Visual Exploration: Sounds a bit pricey for a periodic table, but the vividly animated illustrations of every substance our world is made of more than make up for it. $14. Apps For Teachers: iPad/iPhone Apps AppList.
More App Info description & screenshots Free TeacherPal by ITWorx Since taking attendance and keeping a gradebook is a regular task for all teachers, having a great solution on your iPhone or iPad is a must.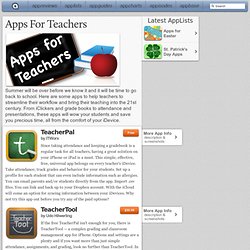 This simple, effective, free, universal app belongs on every teacher's iDevice. Take attendance; track grades and behavior for your students. Set up a profile for each student that can even include information such as allergies. You can email parents and/or students directly from the app. Import .csv files. Apps for Teachers. People often ask what apps I would recommend for Teachers?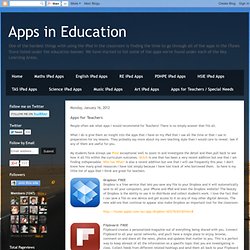 There is no simply answer that fits all. What I do is give them an insight into the apps that I have on my iPad that I use all the time or that I use in preparation for my lessons. Top 50 iPhone apps for kids. About a week after I began using my iPhone, I was in love.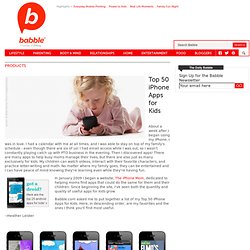 I had a calendar with me at all times, and I was able to stay on top of my family's schedule - even though there are six of us! I had email access while I was out, so I wasn't constantly playing catch up with PTO business in the evening. Then I discovered apps! There are many apps to help busy moms manage their lives, but there are also just as many exclusively for kids. My children can watch videos, interact with their favorite characters, and practice letter-writing and math.
50 best apps for kids from 2013 that parents can trust | Technology. Oh SpongeBob.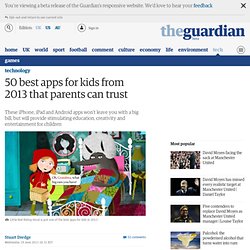 The memory of seeing my sons' favourite square-panted cartoon character putting his name to a mobile game selling Jellyfish Jelly in-app purchases for up to £69.99 still makes me sad. Nickelodeon is far from the only big brand pushing the upper limits of IAP in its children's apps though, as that 10 mobile games for kids with £69.99 in-app purchase options feature pointed out. My Little Pony, Skylanders, Snoopy, Hello Kitty, Stardoll… it was a dispiriting gallery of greed. Top 200 best iPad apps 2011. If you've got yourself an iPad Air or new iPad mini, you'll want to start downloading the best iPad apps straight away.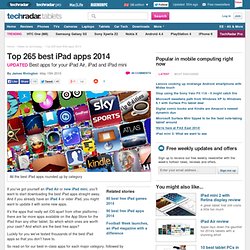 And if you already have an iPad 4 or older iPad, you might want to update it with some new apps. It's the apps that really set iOS apart from other platforms - there are far more apps available on the App Store for the iPad than any other tablet. So which which ones are worth your cash? And which are the best free apps? Luckily for you we've tested thousands of the best iPad apps so that you don't have to.
---