Chemistry
There is extensive documentation for the lab, including an instruction video. The lab applet is translated into Spanish, Portuguese and Catalan. The translated versions can be found at http://www.chemcollective.org/applets/vlab.php. Runs under Windows or Mac. There is also a downloadable version of the virtual laboratory: http://www.chemcollective.org/applets/vlab.php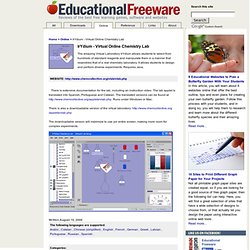 IrYdium - Virtual Online Chemistry Lab
Visual Chemistry : Alkali Earth Metals:
All of the Group 2 elements have two electrons in the outer shell. They are all metals and bond electrovalently. When these metals form electrovalent bonds they lose the two electrons in the outer shell. The more shells the atom has, the more reactive it is.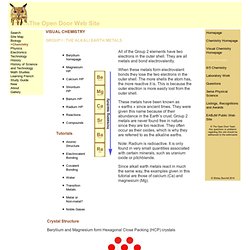 Chemistry Resources: Media: Unit 4
Chemistry is one of the three main branches of science which deals with the study of matters and the changes it undergoes during a chemical reactions. The introduction to chemistry is to have a complete learning over this subject, it is essential to understand the concepts well and this is possible only by having a quality tutor. The advantage of our online tutoring is that you can connect with a tutor online at any time and get personalized attention and one-on-one tutoring. Our online tutors are available 24/7. Also you don't have to waste time in travel since you can get help from the comfort of your home.
Chemistry of Matter, Chemistry Tutoring | TutorVista.com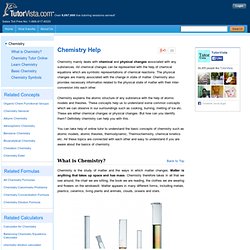 Audio Book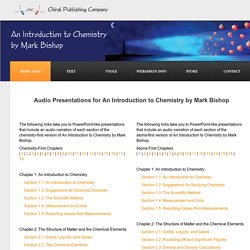 The following links take you to PowerPoint-like presentations that include an audio narration of each section of the chemistry-first version of An Introduction to Chemistry by Mark Bishop. Chemistry-First Chapters | 1 | 2 | 3 | 4 | 5 | 6 | 7 | 8 | 9 | 10 | 11 | 12 | 13 | 14 | 15 | 16 | 17 | 18 Chapter 1: An Introduction to Chemistry Section 1.1: An Introduction to Chemistry
Writing a Lab Report - Namoroka
Dameln Chemsite - Namoroka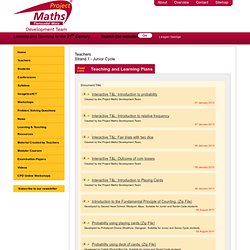 About Overview Contact Sitemap Learning and Teaching for the 21st Century Search the website: Leagan Gaeilge
Strand 1 - Junior Cycle - Project Maths - Learning and teaching