Etsy
Vintage Mummy Ring Sterling 925 Ring by fairytaletreasures on Etsy
So cool...your very own fishy kanji pendant strung onto a black leather choker necklace.. Let me know what kanji symbol you'd like on yours at checkout. The one in the picture is 'Truth' and is swimming towards the right, but just let me know if you'd prefer yours to be swimming to the left...and if you're confused then look at your hands and your left hand is the one with the thumb on the right. OK? That's if you're looking at it with the palm facing down. But I digress.
A Fishy Pendant Japanese Kanji Symbol by mentalembellisher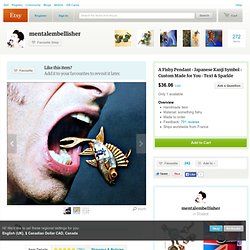 Dragonfly Ring Wraparound Wings by mentalembellisher on Etsy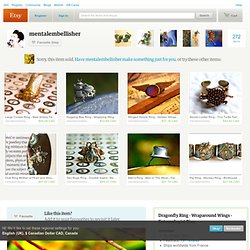 Dragonfly Ring - Wraparound Wings - Entomologist Ring This beautifully detailed antiqued dragonfly wraps its wings around your finger to form a comfortable ring. When treated gently she will adjust herself to fit you perfectly.
<div id="javascript-nag" class="notice"><p> Take full advantage of our site features by enabling JavaScript. <a href="http://www.etsy.com/ca/help/article/372">Learn more</a>. </p></div>
Personalized cute dinosaur Necklace by Sevinoma on Etsy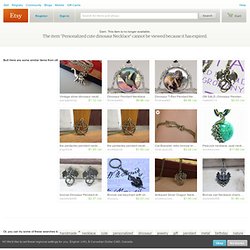 Hi, welcome to my shop! There has 2 people are involved in my shop. my name's Tracy, i have a partner, his name's Dino, we make jewelry together. we love our store so much, hope you love it too. i want our creative make your life more beautiful!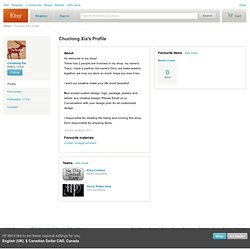 vintage style lovely elephant necklace by Sevinoma on Etsy
personalized golden FALLEN ANGEL FEATHER bracelet by Sevinoma
<div id="javascript-nag" class="notice"><p> Take full advantage of our site features by enabling JavaScript. <a href="http://www.etsy.com/ca/help/article/372">Learn more</a>. </p></div> Help Etsy
vintage style elk antlers antiqued silver by Sevinoma on Etsy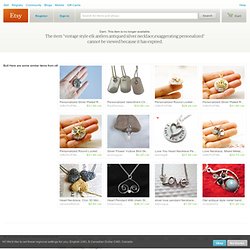 vintage style elk deer antlers bracelet with crystal by Sevinoma
vintage style cute Elephant necklace by Sevinoma on Etsy
<div id="javascript-nag" class="notice"><p> Take full advantage of our site features by enabling JavaScript. <a href="http://www.etsy.com/ca/help/article/372">Learn more</a>. </p></div> Help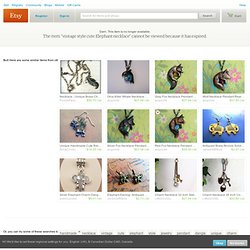 vintage style Turquoise bead earrings by Sevinoma on Etsy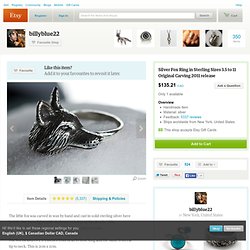 The little fox was carved in wax by hand and cast in solid sterling silver here in NYC. Fox has a light oxide darkener to bring up the details. This handsomely made ring looks wonderful on a lady or a man. The fox measures 1 1/2 inches from head to nose long and the same from ear tip to neck. This is 2cm x 2cm.
Silver Fox Ring in Sterling Sizes 35 to 11 Original by billyblue22
Bird Skull Cabinet Hardware Antique Bronze Made in by billyblue22
<div id="javascript-nag" class="notice"><p> Take full advantage of our site features by enabling JavaScript. <a href="http://www.etsy.com/ca/help/article/372">Learn more</a>. </p></div> Help Etsy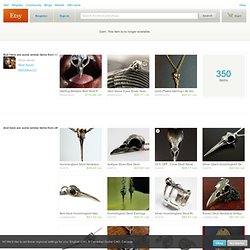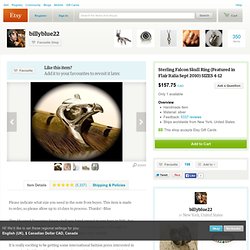 Sterling Falcon Skull Ring Featured in Flair Italia by billyblue22
Please indicate what size you need in the note from buyer. This item is made to order, so please allow up to 10 days to process. Thanks! ~Blue
Bird skull ring precious teeny tiny in blackened by billyblue22
<div id="javascript-nag" class="notice"><p> Take full advantage of our site features by enabling JavaScript. <a href="http://www.etsy.com/ca/help/article/372">Learn more</a>. </p></div> Help Etsy Cart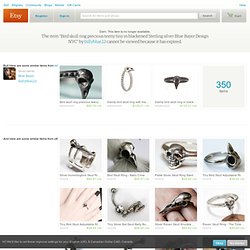 Please read my shop announcement for delivery time. If you need it by a specific date, please contact me first. Thank you! Small tiny skull ring in sterling silver. The skull measures approx. 1/4" long. Also offered with diamonds as well as in 14k gold in separate listings.
Baby Skull Ring in Sterling Silver by michellechangjewelry on Etsy
Bag is actual bag you'll receive. Nixie Shooting Camera Bag... Slimmer bag designed to hold multiple lenses or 2nd body, iPad, business cards, smartphone and more while working. Lovely floral paired with faux distressed leather for the flap & the body is constructed from durable, waterproof, tan waxed canvas.
Shooting Camera Bag Messenger Style Red Floral Faux by Martilena