interns&jobs
Get flash to fully experience Pearltrees
Posted in Business Consultants , CIOs , Clerical and Admins , F&B Positions , Financial Professionals , Healthcare Professionals , Human Resource Professionals , IT Professionals , Nursing Jobs , Oil Rig Specialists , Oracle/SQL/DBAs , Recruitment Jobs , Sales & Marketing , Secretaries/PAs Look no further if you are either looking to do a career change or getting a new job within the same industry. We have listed a whole list of potential job listing here and we are sure you will be spoiled for choices. Project Management/Architect/Construction Mgmt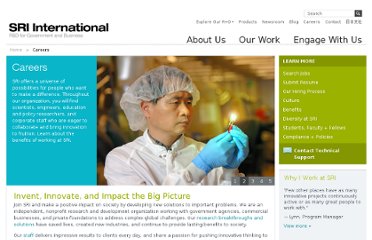 Join SRI and make a positive impact on society by developing new solutions to important problems. We are an independent, nonprofit research and development organization working with government agencies, commercial businesses, and private foundations to address complex global challenges. Our research breakthroughs and solutions have saved lives, created new industries, and continue to provide lasting benefits to society. Our staff delivers impressive results to clients every day, and share a passion for pushing innovative thinking to new levels.
Find a job Where do you fit? Global CEO welcome Audit Consulting Enterprise Risk Services
Think you're all set because you get great career guidance from a mentor ? Think again. A Catalyst survey found that women who have mentors are less likely to be promoted than women with sponsors. That's because sponsors help you identify and take advantage of career opportunities.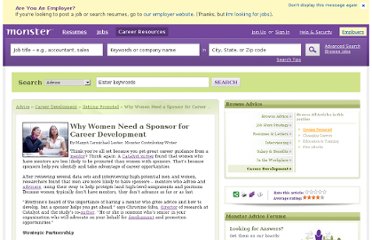 <a href="http://a.collective-media.net/jump/bzj.sanfrancisco/article_page;cmn=bzj;at=homepage;pageid=11354352;pos=t1;template=home_page;tile=1;kw=sanfrancisco;page=11354352;sz=728x90;ord=1364980825.6719.7.22568?" target="_blank"><img src="http://a.collective-media.net/ad/bzj.sanfrancisco/article_page;cmn=bzj;at=homepage;pageid=11354352;pos=t1;template=home_page;tile=1;kw=sanfrancisco;page=11354352;sz=728x90;ord=1364980825.6719.7.22568?" width="728" height="90" border="0" /></a> This was printed from San Francisco Business Times Subscribe - get a FREE Book of Lists Bizjournal logo