US Public Diplomacy 2.0
Joint Request for Statements of Interest: Internet Freedom Programs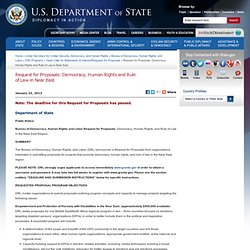 Note: The deadline for this Request for Proposals has passed. Department of State Public Notice Bureau of Democracy, Human Rights and Labor Request for Proposals: Democracy, Human Rights, and Rule of Law in the Near East Region. The Bureau of Democracy, Human Rights, and Labor (DRL) announces a Request for Proposals from organizations interested in submitting proposals for projects that promote democracy, human rights, and rule of law in the Near East region.
Public Diplomacy 2.0: Where the U.S. Government Meets "New Media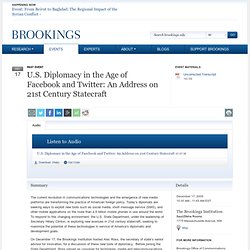 U.S. Diplomacy in the Age of Facebook and Twitter - Brookings In
The current revolution in communications technologies and the emergence of new media platforms are transforming the practice of American foreign policy. Today's diplomats are seeking ways to exploit new tools such as social media, short message service (SMS), and other mobile applications on the more than 4.6 billion mobile phones in use around the world. To respond to this changing environment, the U.S. State Department, under the leadership of Secretary Hillary Clinton, is exploring new avenues in 21st century statecraft, seeking to maximize the potential of these technologies in service of America's diplomatic and development goals.
Public Diplomacy 2.0 (pd20) on Twitter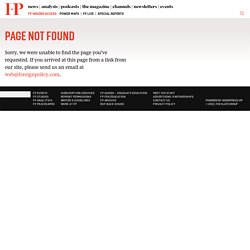 During the turmoil that followed Iran's disputed 2009 presidential election, thousands of opposition supporters and other protesters communicated and organized through Twitter. So important was this social networking site to supporting the pro-democracy "green movement" that the U.S. State Department contacted corporate representatives of Twitter to ask them to delay a routine maintenance shutdown of the microblogging site. In the strife-torn Democratic Republic of the Congo, U.S. officials are working with radio and cell-phone operators to reach isolated militia fighters with messages from former combatants now urging them to put down their arms and return to civilian life. In Pakistan, the State Department paid for 24 million text messages as a way to help support a new mobile-phone-based social network, Humari Awaz, or "Our Voice."
Twitter vs. Terror - By Richard Lugar
U.S. Diplomacy in the Age of Facebook and Twitter: An Address on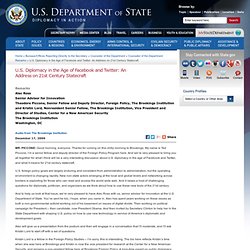 MR. PICCONE: Good morning, everyone. Thanks for coming on this chilly morning to Brookings.
T he administration of U.S. President Barack Obama has sharply criticized Beijing's policy of censoring access to the Internet and pursuing Chinese dissidents who try to use it as a tool for social change.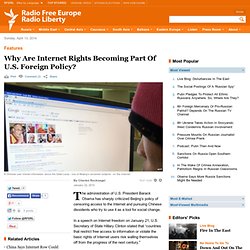 Why Are Internet Rights Becoming Part Of U.S. Foreign Policy? -
U.S. Deploys Tech Firms to Win Syrian Allies
By JAY SOLOMON Associated Press Israeli tanks in the Golan Heights in September, 2007 after the bombing of an alleged Syrian nuclear site. WASHINGTON—The State Department has dispatched a high-level diplomatic and trade mission to Syria, according to senior U.S. officials, marking the latest bid by the Obama administration to woo President Bashar al-Assad away from his strategic alliance with Iran. The U.S. delegation comprises senior executives from some of America's top technology companies, including Microsoft Corp., MSFT +0.83% Dell Inc., DELL -0.07% Cisco Systems Inc.