Geek Diplomacy
Geek Diplomacy: Helpful or Not? at iDiplomacy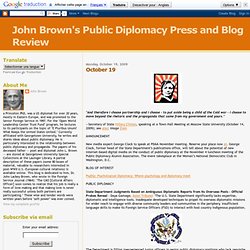 John Brown's Blog
"And therefore I choose partnership and I choose – to put aside being a child of the Cold war – I choose to move beyond the rhetoric and the propaganda that came from my government and yours." --Secretary of State Hillary Clinton , speaking at a Town Hall Meeting at Moscow State University (October 14, 2009); see also ; image from New media expert George Clack to speak at PDAA November meeting. Reserve your place now at . George Clack, former head of the State Department's publications office, will tell about the potential of new Internet-based digital media on the conduct of public diplomacy at the November 4 luncheon meeting of the Public Diplomacy Alumni Association. The event takesplace at the Woman's National Democratic Club in Washington, D.C.
Joshua Cohen: Reflections on Information Technol
Reflections on Information Technology and Democracy Joshua Cohen These comments were presented on February 28, 2009, at an American Academy of Arts and Sciences symposium on The Public Good: The Impact of Information Technology on Society. The symposium was co-sponsored by Microsoft, Google, and the Computer History Museum, and Cohen participated along with Henry Brady and Edward Felten in a panel on Information Technology and Democracy. Democracy is a political system in which elections and other devices are intended to hold officials accountable to the people. But while elections and other institutions of accountability are essential to democracy, they are just part of the story.