Digital Governance
Twitter against Tyrants: New Media in Authoritarian
Digital Diplomacy - NYTimes.com
Alec Ross serves as Senior Advisor for Innovation in the Office of Secretary of State Hillary Clinton. In this role, Alec is tasked with maximizing the potential of technology in service of America's diplomatic and development goals. Prior to his service at the State Department, Alec worked on the Obama-Biden Presidential Transition Team and served as Convener for Obama for America's Technology, Media & Telecommunications Policy Committee. In 2000, Alec Ross and three colleagues co-founded One Economy, a global nonprofit that uses innovative approaches to deliver the power of technology and information about education, jobs, health care and other vital issues to low-income people.
Diplomacy in a Digital World - Alec Ross - The Clinton School Speaker Series - Inspiring Ideas and Action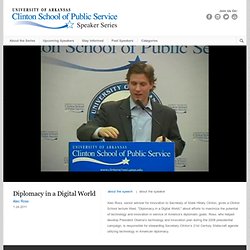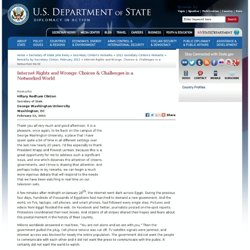 Internet Rights and Wrongs: Choices & Challenges in a Networked World
Thank you all very much and good afternoon. It is a pleasure, once again, to be back on the campus of the George Washington University, a place that I have spent quite a bit of time in all different settings over the last now nearly 20 years. I'd like especially to thank President Knapp and Provost Lerman, because this is a great opportunity for me to address such a significant issue, and one which deserves the attention of citizens, governments, and I know is drawing that attention. And perhaps today in my remarks, we can begin a much more vigorous debate that will respond to the needs that we have been watching in real time on our television sets. A few minutes after midnight on January 28th, the internet went dark across Egypt.
Earlier tonight, the Paley Center hosted a discussion about social media and digital activism with celebrated artist, architectural designer, activist and blogger Ai Weiwei, Twitter co-founder Jack Dorsey and ReadWriteWeb's editor and founder Richard MacManus. The discussion touched upon a large variety of topics related to social media and digital activism in China, including translating Twitter into Chinese and Google's exit from the Chinese market. Jack Dorsey joined the conversation via satellite from San Francisco. The conversation was moderated by Emily Parker, the Arthur Ross Fellow at the Asia Society's Center on U.S.-China Relations, who is currently working on a book about China and the Internet. To start out the discussion, MacManus pointed out that it was the read/write aspect of the Internet that spawned the growth of social networks like Facebook and Twitter over the last few years.
Digital Activism in China: A Discussion Between Ai Weiwei, Jack Dorsey and Richard MacManus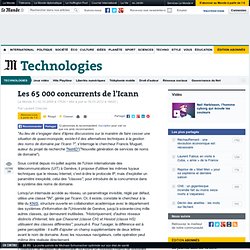 Le Monde.fr | • Mis à jour le | Par Laurent Checola "Au lieu de s'engager dans d'âpres discussions sur la manière de faire cesser une situation de quasi-monopole, existe-t-il des alternatives techniques à la gestion des noms de domaine par l'Icann ?", s'interroge le chercheur Francis Muguet, auteur du projet de recherche "Net4D"("Nouvelle génération de services de noms de domaine"). Sous contrat depuis mi-juillet auprès de l'Union internationale des télecommunications (UIT) à Genève, il propose d'utiliser les mêmes tuyaux techniques que le réseau Internet, c'est-à-dire le protocole IP, mais d'exploiter un paramètre inexploité, celui des "classes", pour introduire de la concurrence dans le système des noms de domaine.
Les 65 000 concurrents de l'Icann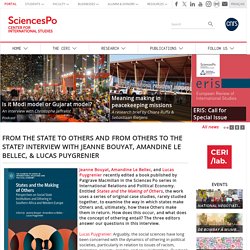 International conference co-organized by the CERI-Sciences Po, Paris, France and the Association pour le Centre Michel Foucault, Paris, France, with the support of IRI/PUC-Rio, Brazil, le Centre d'études sur les conflits, Paris, France, et le Centre des Amériques de Sciences Po, Paris, France MONDAY, JANUARY 13th 09h15-09h30 Welcoming address and introductionDidier Bigo, CERI-Sciences Po, Paris, France; Philippe Bonditti, IRI/PUC-Rio, Brazil; Frédéric Gros, Université Paris-Est Créteil, France 09h30-12h30 Session 1INTERNATIONAL?
CERI - Manifestations
Roadblocks on the Information Highway
A year ago this January, U.S. Secretary of State Hillary Clinton took the stage at Washington's Newseum to tout an idea that her State Department had become very taken with: the Internet's ability to spread freedom and democracy. "We want to put these tools in the hands of people who will use them to advance democracy and human rights," she told the crowd, drawn from both the buttoned-up Beltway and chronically underdressed Silicon Valley. Call it the Internet Freedom Agenda: the notion that technology can succeed in opening up the world where offline efforts have failed. That Barack Obama's administration would embrace such an idea was not surprising; the U.S. president was elected in part on the strength of his online organizing and fundraising juggernaut.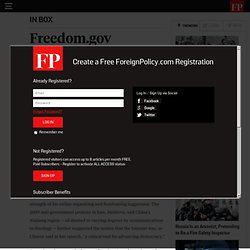 Freedom.gov - By Evgeny Morozov
Evgeny Morozov's Books interview with The New Statesman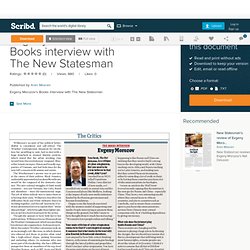 The Critics Wilkerson's account of her political helter-skelter is considered and self-critical. The Weather Underground, desperate for revolu-tion but unwilling to wait, had to deal with ahuge drawback in classical Marxist analysis,which stated that the urban working classwould form the revolutionary vanguard.
This report on a lecture at the LSE by Evgeny Morozov is by POLIS intern, Beth Lowell. From discussions of Iran's "Twitter Revolution" to praise for Google's decision to stop its censorship in China, the Internet is often heralded as a vital tool for democracy. The United States government in particular has long referred to the Internet as a beacon of hope, a great equalizing tool that has the potential to spread democratic practices across the globe by making information available to all. However, in his book The Net Delusion: How Not to Liberate the World, Evengy Morozov steps back from the glow of all this Internet hope and optimism to ask: aren't we missing something? During his LSE public lecture, Morozov opened with a confession: he used to be an Internet optimist too. A native of Belarus, Morozov was initially drawn to Internet idealism but was quickly disheartened when he saw that his work with NGOs and as a blogger was not, in his opinion, making much of a difference.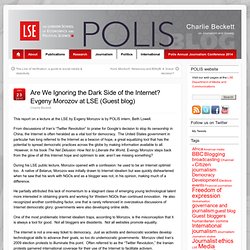 Charlie Beckett, POLIS Director » Blog Archive » Are We Ignoring the Dark Side of the Internet? Evgeny Morozov at LSE (Guest blog)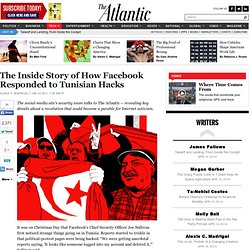 The social-media site's security team talks to The Atlantic -- revealing key details about a revolution that could become a parable for Internet activism. It was on Christmas Day that Facebook's Chief Security Officer Joe Sullivan first noticed strange things going on in Tunisia. Reports started to trickle in that political-protest pages were being hacked. "We were getting anecdotal reports saying, 'It looks like someone logged into my account and deleted it,'" Sullivan said. For Tunisians, it was another run-in with Ammar, the nickname they've given to the authorities that censor the country's Internet.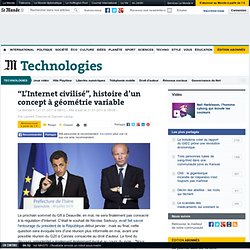 "L''Internet civilisé", histoire d'un concept à géométrie variable
Le Monde.fr | • Mis à jour le | Par Laurent Checola et Damien Leloup Le prochain sommet du G8 à Deauville, en mai, ne sera finalement pas consacré à la régulation d'Internet. C'était le souhait de Nicolas Sarkozy, avait fait savoir l'entourage du président de la République début janvier ; mais au final, cette question sera évoquée lors d'une réunion plus informelle en mai, avant une possible réunion du G20 à Cannes consacrée au droit d'auteur. Le fond du discours présidentiel a également légèrement évolué au cours du mois : "Nous allons mettre sur la table une question centrale, celle de l'Internet civilisé, je ne dis pas de l'internet régulé, je dis de l'internet civilisé", a-t-il insisté lors de ses vœux au monde de l'éducation et de la culture. Si l'expression d'"Internet civilisé" est régulièrement apparue dans la rhétorique gouvernementale ces dernières années, elle est évoquée indistinctement pour critiquer les révélations de WikiLeaks ou la lutte contre le téléchargement illégal.
hide captionWhatever Washington does in the digital space these days would almost necessarily reflect on Google — even if they have no direct involvement in the issue. Nicholas Kamm/AFP/Getty Images Whatever Washington does in the digital space these days would almost necessarily reflect on Google — even if they have no direct involvement in the issue. Evgeny Morozov, originally from Belarus, is a Yahoo! Fellow at the Institute for the Study of Diplomacy at Georgetown University. Not long ago I already announced my return to the world of bytes, tweets, and pokes — only to disappear for another three months.
Foreign Policy: The Politicization Of Digital Space
Main Content CEO Eric Schmidt's connections have given the company access to the inner circles of D.C. | Reuters Photo AP Photo Digg/Buzz It Up Google's aggressive tactics have put it on top of the business world, and now the Internet giant is looking to leverage the high profile and sterling connections of its CEO to achieve similar power in the political sphere. Google boss Eric Schmidt is one of the nation's most politically active business leaders — a man who uses the cachet of the company he leads, as well as his own charisma, to build strategic alliances in the Obama administration and on Capitol Hill.
Google search: Political power - POLITICO.com Print View
The Digital Disruption
The advent and power of connection technologies -- tools that connect people to vast amounts of information and to one another -- will make the twenty-first century all about surprises. Governments will be caught off-guard when large numbers of their citizens, armed with virtually nothing but cell phones, take part in mini-rebellions that challenge their authority. For the media, reporting will increasingly become a collaborative enterprise between traditional news organizations and the quickly growing number of citizen journalists. And technology companies will find themselves outsmarted by their competition and surprised by consumers who have little loyalty and no patience. Today, more than 50 percent of the world's population has access to some combination of cell phones (five billion users) and the Internet (two billion).
Google's corporate slogan – "Don't be evil" – has always bothered me. No one should "be" evil, of course. But why did Google need to spell out its determination to avoid Satan and all his works with such vehemence? When a husband declares to his wife that he would never dream of taking a mistress, or a chief executive interrupts a board meeting to announce that she isn't embezzling the company's funds, the audience is entitled to wonder if they're listening to the voice of a guilty conscience. At present, hundreds of millions of people find the idea that Google could be evil unthinkable. It has so weaved itself into the fabric of everyday life that it has gone from being a proper noun to a verb: "I google"; "You google"; "The whole world googles".
Google's arrogance presages a mighty fall | Nick Cohen | Comment is free | The Observer
The Social Network a film directed by David Fincher, with a screenplay by Aaron Sorkin You Are Not a Gadget: A Manifesto by Jaron Lanier Knopf, 209 pp., $24.95 How long is a generation these days?
Google and Money! by Charles Petersen
Facebook could gain from foreign ownership
Peacebuilding-in-the-Information-Age-Sifting-Hype-from-Reality
Book Review: The Net Delusion by Evgeny Morozov
L'Arabie saoudite dément vouloir contrôler les blogueurs
Googling Africa - By Dayo Olopade
PdF EU: Personal Democracy Forum
Twitter Musings in Syria Elicit Groans in Washington
Dissertation
Innovator Alec Ross Joins State Dept.
FR Doc 2010-5023
Surfing the Surfer
Internet as Diplomat in 21st Century Statecraft
Public Diplomacy 2.0
Washington Taps Into a Potent New Force in Diplomacy - NYTimes.c
U.S. Web Firms Practice Self-Censorship - Newsweek
Losing our minds to the web – Prospect Magazine « Prospect Magazine
How Social Media Can Change The World (SACC, april 2010) « Marti
Internet has changed foreign policy for ever, says Gordon Brown
The Internet and Political Change in Kuwait
Google Searches for a Foreign Policy
Foreign Policy: Africa's Internet Threat
Blogs and Bullets
State Department's Delegations 2.0
Hillary Clinton's Speech on Internet Freedom
Blogs and Bullets: Evaluating the Impact of New Media on Conflic
U.S. Web Firms Practice Self-Censorship - Newsweek.com
The Digital Divide in the Muslim World
Google implicated in the Orange Revolution
Post Tech - Technology for diplomacy: A chat with State's Alec R
Diplomatic Efforts Get Tech Support - washingtonpost.com
The Next Diplomatic Cable | The American Prospect
Gov 2.0 | Oxford Int
Facebook Diplomacy
Stanford Social Innovation Review : Opinion Blog : Twitter Diplo
'Twitter revolutionized Israeli diplomacy' - Haaretz - Israel Ne
Diplomacy 2.0 |
Internet and Democracy - Miller Center of Public Affairs