Digital Diplomacy
Digital Diplomacy: The Impact of the Internet on International R. U.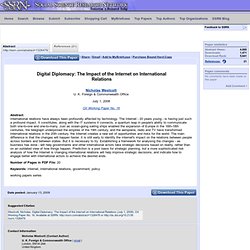 K. Foreign & Commonwealth OfficeJuly 1, 2008 OII Working Paper No. 16 Abstract: International relations have always been profoundly affected by technology. Diplomacy 2.0. There is much talk in the air – especially in Britain and the United States – about reinventing diplomacy for the 21st century.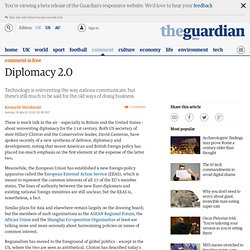 Both US secretary of state Hillary Clinton and the Conservative leader, David Cameron, have spoken recently of a new synthesis of defence, diplomacy and development, noting that recent American and British foreign policy has placed too much emphasis on the first element at the expense of the latter two. Meanwhile, the European Union has established a new foreign-policy apparatus called the European External Action Service (EEAS), which is meant to represent the common interests of all 27 of the EU's member states. The lines of authority between the new Euro-diplomats and existing national foreign ministries are still unclear; but the EEAS is, nonetheless, a fact. The Rise of Public Diplomacy 2.0. The Rise of Public Diplomacy 2.0 Colleen Graffy ack in December 2006, Time magazine did something gutsy.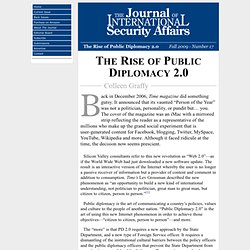 ---