Actions / Blogs à l'étranger
POLLENERGIE - Découvrez l'apithérapie, et tous les bienfaits du pollen à travers la boutique du spécialiste du Pollen congelé : Pollen de Ciste, Mille Fleurs, dominante Châtaignier, Bruyère, Saule, Baume d'Aristée, Percie de Sert, Gelée Royale, Gommes, So. Yémen, le miel le plus cher au monde (office) Virginie Vican / Picturetank VIV0145646 A Sanaa des commerçants écoulent le miel auprès d'une riche clientèle, dans un décor kitsch de lambris vernis et de miroirs clinquants.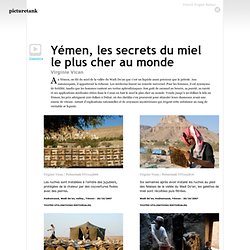 Le kilo de miel atteint 90 dollars, et 200 dollars à l'export. Sanaa, Yémen - 20/10/2007 Virginie Vican / Picturetank VIV0145704 Jeudi, jour de mariage, des dizaines d'hommes enveloppés dans leur veste traditionnelle, la janbia, un grand poignard recourbé fixée à l'estomac, se rassemblent pour déjeuner dans la banlieue de Sanaa. World Save Bee Fund. Save The Bees. The Save Our Bees Campaign for National Science and Engineering.
Untitled. Can Social Networking Save the Bees? Let's Hope So Because Nearl. Photo: ZenziHäagen-Dazs has long made saving endangered bees a mission.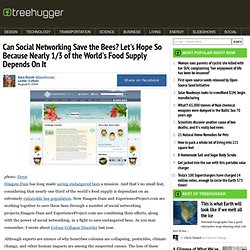 And that's no small feat, considering that nearly one third of the world's food supply is dependant on an extremely vulnerable bee population. Now Haagen-Dazs and ExperienceProject.com are working together to save these bees through a number of social networking projects.Haagen-Dazs and ExperienceProject.com are combining their efforts, along with the power of social networking, in a fight to save endangered bees. As you may remember, I wrote about Colony Collapse Disorder last year. Although experts are unsure of why honeybee colonies are collapsing, pesticides, climate change, and other human impacts are among the suspected causes. The loss of these crucial pollinators is alarming.
---