Photoshop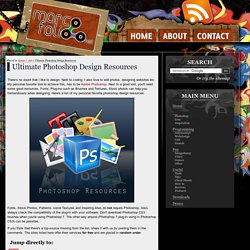 There's no doubt that I like to design. Next to coding, I also love to edit photos, designing websites etc. My personal favorite tool to achieve this, has to be Adobe Photoshop. Next to a good tool, you'll need some good resources. Fonts, Plug-ins such as Brushes and Textures, Stock photos can help you tremendously when designing. Here's a list of my personal favorite photoshop design resources.
25 Impressive Grungy and Dirty Photoshop Brushes | Tutorial Web Design - StumbleUpon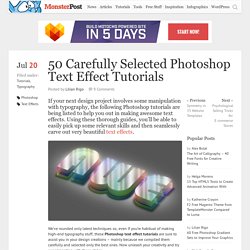 Template Monster Blog 50 Carefully Selected Photoshop Text Effect Tutorials If your next design project involves some manipulation with typography, the following Photoshop tutorials are being listed to help you out in making awesome text effects. Using these thorough guides, you'll be able to easily pick up some relevant skills and then seamlessly carve out very beautiful text effects.