Movimientos No-Copyright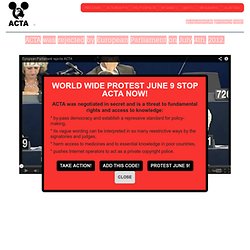 Which countries already signed ACTA? October 2011: Japan and United States, who crafted the treaty, together with Canada, Australia, New Zealand, Singapore and South Korea. July 2012: México. January 2012: European Commission, in charge of negotiations, together with non elected representatives from 22 Member States: Austria, Belgium, Bulgaria, Czech republic, Denmark,Finland, France, Greece, Hungary, Ireland, Italy, Latvia, Lithuania, Slovenia, Luxemburg, Malta, Poland, Portugal, Rumania, Spain, Sweden and United Kingdom. The signature of ACTA by European countries does not mean the deal is done, needs to be ratified by the European Parliament.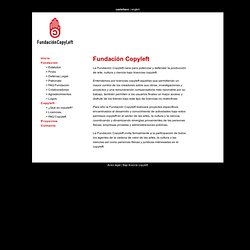 Fundación Copyleft Inicio
La Fundación Copyleft nace para potenciar y defender la producción de arte, cultura y ciencia bajo licencias copyleft. Entendemos por licencias copyleft aquellas que permitiendo un mayor control de los creadores sobre sus obras, investigaciones y proyectos y una remuneración compensatoria más razonable por su trabajo, también permiten a los usuarios finales un mejor acceso y disfrute de los bienes bajo este tipo de licencias no restrictivas. Para ello la Fundación Copyleft realizará proyectos específicos encaminados al desarrollo y conocimiento de actividades bajo estos permisos copyleft en el sector de las artes, la cultura y la ciencia, coordinando y dinamizando sinergias provenientes de las personas físicas, empresas privadas y administraciones públicas. La Fundación Copyleft invita formalmente a la participación de todos los agentes de la cadena de valor de las artes, la cultura y las ciencias así como personas físicas y jurídicas interesadas en el copyleft.
Richard Stallman announced in September 1983 the plan to develop a free software Unix-like operating system called GNU. GNU is the only operating system developed specifically for the sake of users' freedom. What is GNU? GNU is a Unix-like operating system that is free software—it respects your freedom. You can install versions of GNU (more precisely, GNU/Linux systems) which are entirely free software. What we provide.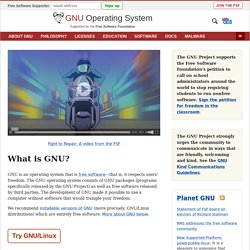 New domain again This time it's http://thepiratebay.gy New domain, and soon we'll switch again! We are now at http://thepiratebay.ac but that won't last for long, we'll soon be on our way to the next. PirateBrowser - No more censorship!