Videos
This Time Lapse of Rio de Janeiro Will Take Your Breath Away. A story for tomorrow. If i dance like him, you still mad at me ? - StumbleUpon. No need to pack up the station wagon and battle traffic this summer because filmmaker Menassier Gabriel can take you on a road trip from sea to shining sea in under four minutes, no tolls required.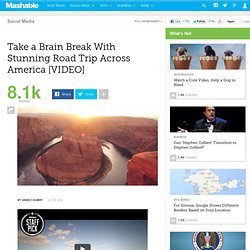 Gabriel captures the beauty of America's most captivating spots in a way that makes you feel like you're cruising the open roads from the comfort of your desk. So sit back in your cubicle, pop open the full screen view, and get lost in a few minutes of mental vacation. SEE ALSO: Calm.com Is the Most Relaxing 2 Minutes You'll Spend Online. Stop-motion video captures the beauty of New York City - The Feed Blog. (CBS News) It's been awhile since I've done a post to honor this large, unique and amazing place I happen to live in: New York City.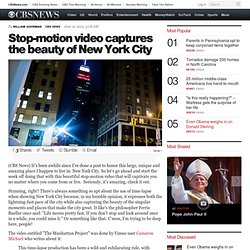 So let's go ahead and start the week off doing that with this beautiful stop-motion video that will captivate you no matter where you come from or live. Seriously, it's amazing, check it out. Kyle Hanagami - Carnival. EAT. LEARN. MOVE Video - StumbleUpon. Speeding Around The World in Under 5 minutes Time Lapse. A Tale of Two Brains.
---