Kitchen&Food knowledge
Conversie van cup naar gram | Nullam Microwaveum. Cook'n Newsletter. Spice Advice. Kitchen Cheat Sheet. What Everybody Ought To Know About Seasoning Uses Of These 53 Different Spices. Used as a food additive for the purpose of flavoring and has been a part of human history since their inception.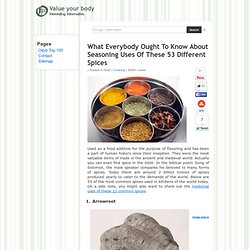 They were the most valuable items of trade in the ancient and medieval world. Actually you can even find spice in the bible. In the biblical poem Song of Solomon, the male speaker compares his beloved to many forms of spices. Today there are around 2 billion tonnes of spices produced yearly to cater to the demands of the world. Below are 53 of the most common spices used in kitchens of the world today. Cooking conversions - StumbleUpon. Top 10 Things Every Budding Foodie Should Know - StumbleUpon. You're probably right.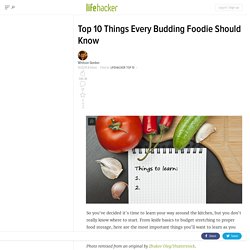 Or you could be like me, a single young male living on his own, never washes hands, cleans kitchen once every other week, ignores best before dates, forgets to throw away old food (and leave it in the fridge until I finally notice), have a cat running around the house. I have never had food poisoning. Guess either I built up a strong enough immune system, or I'm doing just the bare minimum so that I don't get sick.... Food Nutrition Comparisons | twofoods - StumbleUpon. Kitchen 101: Fruits, Vegetables & Herbs.
Kitchen 101: Fruits, Vegetables & Herbs I'd be remiss if I simply focused on imparting technical knowledge in the Kitchen 101 series here at Chasing Delicious.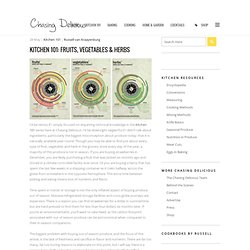 I'd be downright neglectful if I didn't talk about ingredients, particularly the biggest misconception about produce today: that it is naturally available year-round. Though you may be able to find just about every type of fruit, vegetable, and herb in the grocery store every day of the year, a majority of this produce is not in season. How to Store Vegetables & Fruit Without Plastic | Washingtons Green Grocer. So you've got all these great fruits and vegetables and now we're going to help you keep them at their freshest with these tips.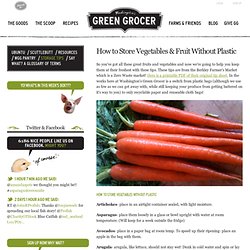 These tips are from the Berkley Farmer's Market which is a Zero Waste market! Here is a printable PDF of their original tip sheet. In the works here at Washington's Green Grocer is a switch from plastic bags (although we use as few as we can get away with, while still keeping your produce from getting battered on it's way to you) to only recyclable paper and reuseable cloth bags! 50 Seemingly Healthy Foods that are Bad for You. With so many light varieties of microwave popcorn on the market, it's easy to think that this snack is healthy, but with high levels of sodium and the chemical diacetyl, some health professionals caution about making this a regular snack.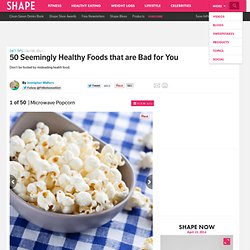 A better choice? Putting a few plain kernels in a brown paper bag and popping your own. You control the flavoring! [Click to Tweet this tip!]
---