Armes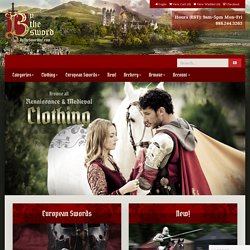 Faceless Man Coin 417-FM-08 Replica of the iron coin given to Arya Stark in Game of Thrones. Double Griffin Head Cloak Clasp 21-2105 Our Double Griffin Head Cloak Clasp in available in pewter or antiqued brass overlay. Pewter Astrology Sundial Ring Pendant 289-PC16AP
Medieval Swords, Medieval Clothing, Renaissance Clothing, Leather Armour, LARP Gear, Chainmail and Helms, from By The Sword
Parks Sabers - The Most Powerful Sabers In The Known Universe
pierre rolly, armurier, vente d'armes anciennes mais aussi achat,echange,expertise, ornes
R. W. Scott "Birds in Flight" All photos (C) 1997, 1998 Gregory J. Scott and/or Ralph W. Scott
R. W. Scott "Birds in Flight" Copyright 1997, 1998, 2002 Gregory J. Scott and/or Ralph W. Scott Photos by R. W.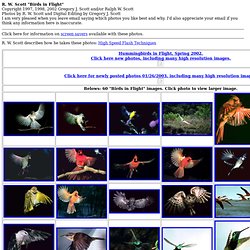 Ouverture Exceptionnelle posté le : 05/12/2013 Votre magasin sera ouvert :-Dimanche 15 et 22 Décembre et -Lundi 16 et 23 Décembre de 14h30 à 18h Pour vous aider à bien préparer vos fêtes de fin d'année !! One Shot One Kill ! posté le : 13/11/2013
Tout l'airsoft/softair repliques accessoires upgrades au meilleur prix - Bienvenue sur le site d'airsoft Original Gun !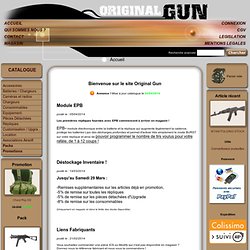 d20 Weapons Locker Art Gallery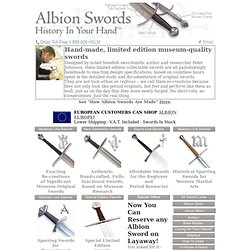 Albion Swords Ltd - Sword Cutlers and Blademakers - Fine Handmade Collectable Limited Edition Museum Quality Medieval Swords
3-17-14 ...Having had a few days to examine this, my first Albion sword, I can now appreciate the degree of detail that is put into Albion's products that separates them from others. The fuller is STRAIGHT and there is none of the waviness when you look down the sides of the blade that I had become used to seeing with some manufacturer's swords. Everthing is very solid and there are no gaps or openings around the blade where it passes through the guard. The finish on the blade and hilt looks great. This sword has exceeded my expectations. My thanks go out to everyone at Albion for taking the pains to provide this level of quality.
Epées et rapières Renaissance et Temps Modernes
Les premiers essais d'armes à feu portatives Dès le début du XIVème, on voit apparaître les premières armes à feu individuelles. Ce sont des armes simples et dangereuses pour le porteur comme pour l'adversaire. Ces « gueulardes » ou « pots de fer à traire garrots de feu » sont constitués d'un simple tube de fer à canon lisse fermé à une extrémité, exception faite d'une ouverture appelée lumière, parfois enchassé dans une pièce de bois qu'on peut glisser sous le bras. On enfourne de la poudre dans le tube avant de le bourrer avec de la paille, des cailloux ou des morceaux de métal. Le tireur met le feu à la poudre par la lumière et se campe sur ses pieds en attendant la détonation, particulièrement bruyante.
Armement Renaissance
Un article de Wikipédia, l'encyclopédie libre. La chevalerie règne sur les champs de bataille, où la charge de ses combattants cuirassés provoque la crainte de la piétaille. La conception de l'armement médiéval lui est très largement consacrée. Symbolique de la féodalité et de l'aristocratie guerrière, associant sacralité du pouvoir et service au suzerain par un ensemble de rites propres, tels l'hommage lige.Disposition en « statue équestre » d'un chevalier de la fin du XVe siècle, sa monture cabrée. Armement mérovingien[modifier | modifier le code] L'armement franc a longtemps été vu comme l'une des principales causes des succès militaires de ce peuple au haut Moyen Âge.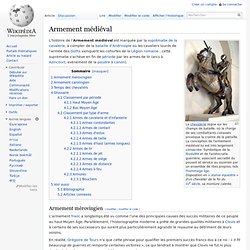 Armement médiéval