Free
01net le 26/07/11 à 17h18 Il n'est pas toujours facile de passer en dernier. Free Mobile, qui a obtenu la quatrième licence mobile, connaît bien cette situation.
Les antennes de Free Mobile continuent de déranger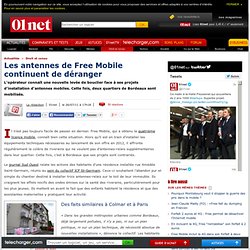 les rêves de grandeur de Xavier Niel, Enquête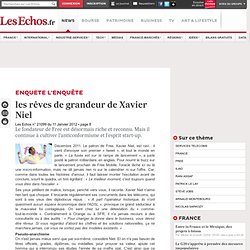 Les Echos n° 21099 du 11 Janvier 2012 • page 8 Décembre 2011. Le patron de Free, Xavier Niel, est ravi : il vient d'envoyer son premier « tweet », et tout le monde en parle. « La fusée est sur la rampe de lancement », a juste posté le patron milliardaire, en anglais. Pour nourrir le buzz sur le lancement prochain de Free Mobile, l'oracle lâche ici ou là une micro-information, mais ne dit jamais rien ni sur le calendrier ni sur l'offre. Car, comme dans toutes les histoires d'amour, il faut laisser monter l'excitation avant de conclure, sourit le quadra, un brin égrillard : « Le meilleur moment, c'est toujours quand vous êtes dans l'escalier. » Ses yeux pétillent de malice, lorsque, penché vers vous, il raconte.
Xavier Niel débriefe pour FrenchWeb le lancement de Free Mobile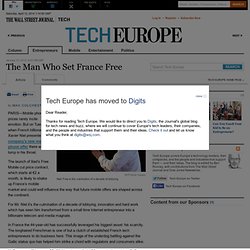 AFP/Getty Images Niel: Free is the culmination of a decade of lobbying PARIS—Mobile phone prices rarely incite emotion.
The Man Who Set France Free - Tech Europe
How France's Free will reinvent mobile
Updated: Xavier Niel, the maverick founder of Iliad, the company behind Free.fr broadband service, is about to redefine the mobile landscape, perhaps as early as tomorrow, when he launches the much-talked about Free Mobile. In doing so, he will redefine what the idea of a carrier in the 21st century is, thanks to a radical new approach. Utilizing a blend of Wi-Fi, HSPA+ 3G, femtocells and its all-fiber backbone, Free will offer unlimited voice, texting and data over the mobile networks; just bring your own iPhone. But before I get into the details of his new company, let me back up and tell you about Iliad and Free.fr. Set it Free.fr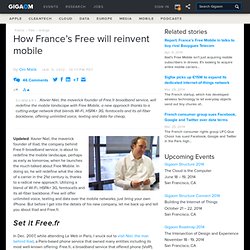 [Free Mobile] Les réactions de Jacques-Antoine Granjon et Marc Simoncini