Facebook
Facebook : ajoutez la fonctionnalité diaporama à vos albums photo | Descary. 2.5 milliards, c'est le nombre de photos téléversées chaque mois sur Facebook.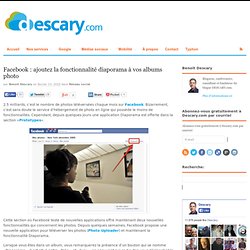 Bizarrement, c'est sans doute le service d'hébergement de photo en ligne qui possède le moins de fonctionnalités. Cependant, depuis quelques jours une application Diaporama est offerte dans la section «Prototypes». Cette section où Facebook teste de nouvelles applications offre maintenant deux nouvelles fonctionnalités qui concernent les photos. Invite Email Contacts to Like your Facebook Page with "Tell your Fans" Facebook Page admins can now send all their email contacts an invitation to Like their Page through a new tool called "Tell your Fans".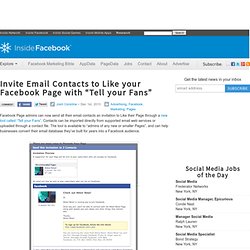 Contacts can be imported directly from supported email web services or uploaded through a contact file. The tool is available to "admins of any new or smaller Pages", and can help businesses convert their email database they've built for years into a Facebook audience. [Facebook] Récapitulatif d'informations : Facebook. Study Reveals Why Consumers Fan Facebook Pages. Have you ever wondered why people decide to become fans of Facebook pages?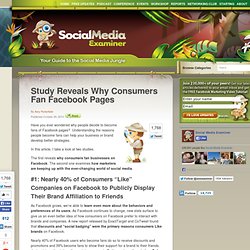 Understanding the reasons people become fans can help your business or brand develop better strategies. In this article, I take a look at two studies. The first reveals why consumers fan businesses on Facebook. The second one examines how marketers are keeping up with the ever-changing world of social media. #1: Nearly 40% of Consumers "Like" Companies on Facebook to Publicly Display Their Brand Affiliation to Friends.
Slap A QR Code On That Product So That People Can Like It. Facebook like buttons are now everywhere on the Web—on products, status messages, and blog posts like this one.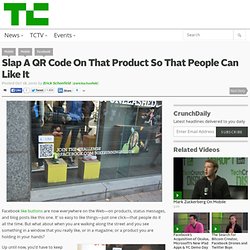 It' so easy to like things—just one click—that people do it all the time. But what about when you are walking along the street and you see something in a window that you really like, or in a magazine, or a product you are holding in your hands? New Facebook Groups Designed to Change the Way You Use Facebook. Facebook has just revealed a new version of Groups at its live press conference in Palo Alto, California.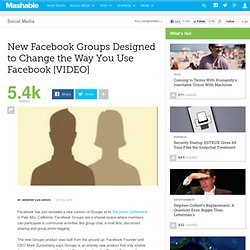 Facebook Groups are a shared space where members can participate in communal activities like group chat, e-mail lists, document sharing and group photo-tagging. The new Groups product was built from the ground up; Facebook Founder and CEO Mark Zuckerberg says Groups is an entirely new product that only shares the name in common with the old Groups functionality. The old Groups will continue to remain in place, but moving forward members will only be able to create new Groups. FanGager.
2010 Congrès Facebook F8 Innovation recommendation. Exclu : TF1 implemente Facebook LiveFeed. Maximize your Facebook Page with Professional Applications | Inv. Oracle Oracle Solutions Social Relationship Management.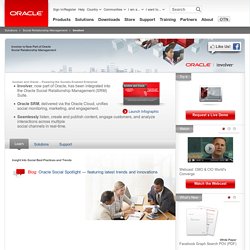 ---