Idées / Travail collaboratif
Having great ideas is easy. Putting them into action is another story. What if students used crowdfunding in order to finance their professional projects? Kickstarter has become an efficient tool for promoting and launching great projects.
Why Students should use Kickstarter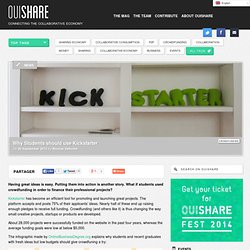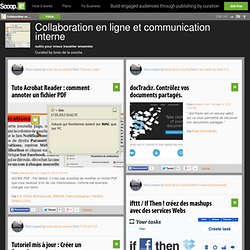 Si vous cherchez à sauvegarder vos documents en ligne, alors Dropbox est certainement l'une des meilleures solutions. Fiabilité et simplicité l'ont couronné maître en la matière. Ce n'est pas par hasard que Dropbox compte plus de 50 millions d'utilisateurs. La version gratuite permet de stocker jusqu'à 2 Go de données, extensibles à 16 Go grâce au parrainage. Mais comme sur Internet, tout va dix fois plus vite, nous ne sommes pas à l'abri d'un crash ou d'une faillite.
Collaboration en ligne et communication interne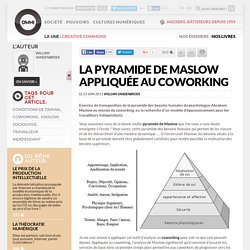 Exercice de transposition de la pyramide des besoins humains du psychologue Abraham Maslow au monde du coworking, ou la recherche d'un modèle d'épanouissement pour les travailleurs indépendants. Vous souvenez-vous de la bonne vieille pyramide de Maslow que l'on vous a sans doute enseignée à l'école ? Vous savez, cette pyramide des besoins humains qui permet de les classer et de les hiérarchiser d'une manière dynamique … Si l'on en croit Maslow, les besoins situés à la base de la pyramide doivent être globalement satisfaits pour rendre possible la réalisation des besoins supérieurs. Je me suis amusé à appliquer cet outil d'analyse au coworking pour voir ce que cela pouvait donner.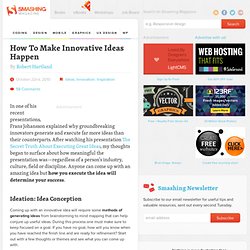 Advertisement In one of his recent presentations, Frans Johansson explained why groundbreaking innovators generate and execute far more ideas than their counterparts. After watching his presentation The Secret Truth About Executing Great Ideas, my thoughts began to surface about how meaningful the presentation was—regardless of a person's industry, culture, field or discipline. Anyone can come up with an amazing idea but how you execute the idea will determine your success. Ideation: Idea Conception