OpTunisia
Doustourna, une Constitution 2.0. pour la Tunisie. Avec plus de 1 500 listes à l'élection pour l'Assemblée constituante du 23 octobre, difficile pour les listes indépendantes de se démarquer des listes de partis plus enracinés dans le paysage politique tunisien.
Alors que les 11 000 candidats s'affairent aux quatre coins du pays pour faire connaître leur programme auprès des nouveaux électeurs tunisiens, certains ont choisi la Toile pour partager leurs propositions. A l'instar du réseau de listes indépendantes Doustourna , qui part déjà un projet de Constitution sous le bras, soumis au débat en ligne. Tunisie : Microsoft complice de la censure numérique par Ben Ali. « Business is business », et la responsabilité sociale des entreprises (RSE), chez Microsoft, semble être une notion exogène, comme chez beaucoup d'entreprises du secteur high-tech.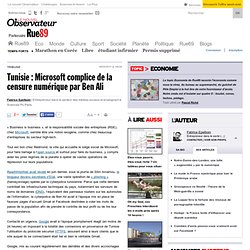 Tout est bon chez Redmond, la ville qui accueille le siège social de Microsoft, pour faire barrage à l'open source et surtout pour faire du business, y compris aider les pires régimes de la planète à opérer de vastes opérations de répression sur leurs populations. ReadWriteWeb avait révélé en juin dernier, sous la plume de Slim Amamou, le blogueur devenu secrétaire d'Etat, une vaste opération de « phishing » (hameçonnage) opérée par la cyberpolice tunisienne. The First WikiLeaks Revolution? | WikiLeaked. Tunisians didn't need any more reasons to protest when they took to the streets these past weeks -- food prices were rising, corruption was rampant, and unemployment was staggering. But we might also count Tunisia as the first time that WikiLeaks pushed people over the brink. These protests are also about the country's utter lack of freedom of expression -- including when it comes to WikiLeaks. Tunisia's government doesn't exactly get a flattering portrayal in the leaked State Department cables. Tunisie 2.0 : bootstrapping.
---