My bracelets
As you know from this and this, I just can't stop making friendship bracelets! They look so good mixed + matched, piled high… adding the perfect, summery pop of color to whatever it is that you're wearing. Today's bracelet is a bit more blingy than the others I've made so far… and if you'd like, you could make it the more conventional way (using a clasp + jump ring vs. string…) or even make a necklace!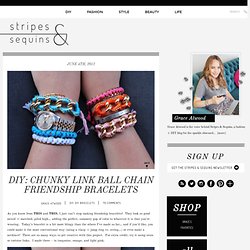 Braided wrap bracelet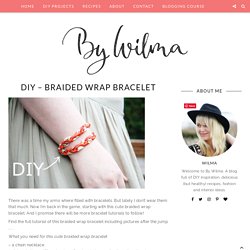 There was a time my arms where filled with bracelets. But lately I don't wear them that much. Now I'm back in the game, starting with this cute braided wrap bracelet. And I promise there will be more bracelet tutorials to follow!
Charm friends and family with some customized craftiness! photos: kirsten for we heart this Welcome to my July DIY of the month at we heart this! Inspired by the latest trend of friendship bracelets, this one lets you pick your three favorite colors to make a one-of-a-kind, custom Braided Charm Bracelet.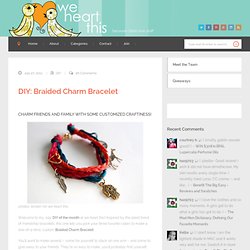 If you are planning on doing a DIY wrist stack as per this post, a few of these are a must. There are just so many options with different beads and color of tread, as well as being easy and fast to make. *** Updated: Grace from the amazing blog Stripes and Sequins, alerted me to HonestlyWTF's post with the same braided bracelets! Check it out for other cool options*** All you need are thread and beads.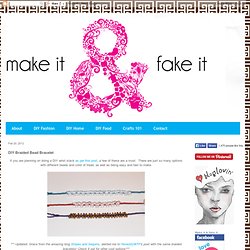 fake it: DIY Braided Bead Bracelet
Do you remember my DIY inspiration bracelet in this post? Well I finally had time to make my own and it went great! I'm so excited to share it with all of you!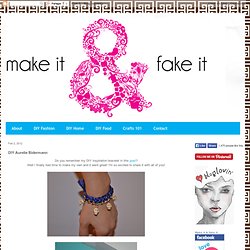 fake it: DIY Aurelie Bidermann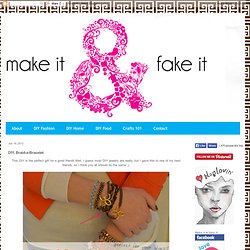 This DIY is the perfect gift for a good friend! Well, I guess most DIY jewelry are really, but I gave this to one of my best friends, so I think you all should do the same ;) I am still on summer vaca, and im totally experiencing how when you have nothing to do but relax 1. relaxing is hard, its true.. I was not made for relaxing!! It is sort of making me neurotic actually..! 2. its so hard to get yourself to do something!
fake it: DIY, Braid-a-Bracelet
I've never really been one to follow rules when it comes to mixing metals. Rose gold, yellow gold, silver… I mix and match. For that reason, I was excited to see mixed metal jewelry pop up on Shopbop this month. This bracelet (also available in neon,) stood out as something I needed to have.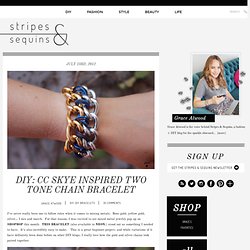 CC Skye Inspired Two Tone Chain Bracelet
After last week's bracelet DIY, I thought it would be fun to do another summery bracelet. (If your curious, next week's DIY will be another summer bracelet, too – the reason for this is that I've had several busy weeks topped off with weekend travel plans, and materials for bracelets travel incredibly well!) Last summer, the brilliant ladies of Honestly WTF slayed me with this fabulous wrap bracelet. Ball chain – what a brilliant idea!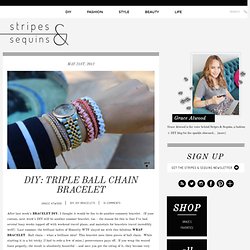 The diamond friendship bracelet seems so much trickier than it actually is. I don't know why I put off learning it for so long (last week,) but now I can't stop making them. As with everything, practice makes perfect, but if you spend an afternoon perfecting your craft, you'll soon be making them with your eyes closed. And once you perfect the six strand bracelet, you can move along to thicker bracelets. (I made the pink + white one below using eight strands – 6 white and 2 pink!)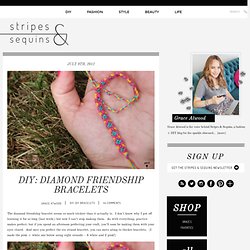 Diamond Friendship Bracelets
Delicate Chain Bracelets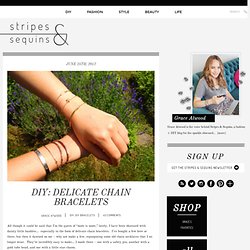 All though it could be said that I'm the queen of "more is more," lately, I have been obsessed with dainty little baubles… especially in the form of delicate chain bracelets. I've bought a few here or there, but then it dawned on me – why not make a few, repurposing some old chain necklaces that I no longer wear. They're incredibly easy to make… I made three – one with a safety pin, another with a gold tube bead, and one with a little star charm. I'm wearing the homemade versions on the right side. On the left side, my bracelets are Cartier, Gorjana, and Derng.
Fishtail Braid Friendship Bracelets
Today's DIY project is inspired by one of my favorite things to do to my hair in the summer – the fishtail braid. (The Beauty Department has an easy tutorial and A Cup of Jo has a fun twist on it – check them out.) The end result is snazzier than a classic braid, but considerably easier to make than a classic knotted friendship bracelet, with the same chevron pattern. My personal favorite is to use a bunch of similar shades for an ombre effect, but you can really do anything… get creative!
Finish product! :) Colorful braided bracelet! Hi Guys ;) I really really tried my best to explain on how make these colorful braided bracelets. (Honestly I am having a hard time). It's my first time to actually to do some tutorials with the bracelets I made. Thus, excuse me if some parts of the tutorial are quiet vague.
DIY Braided Bracelet
Learn how to make this awesome braided bracelet! Find detailed written instructions below the photos. Materials: - Embroidery Floss (3 different colors)
DIY: Braided Bracelet | State of Unique
LIFEANNSTYLE: DIY Multi Chain Bracelets
Hello Made by Girl readers! It's Stephanie from Henry Happened back with another DIY project. If there's one thing I love, it's making bracelets. And these are so insanely easy you won't be able to make just one. Read on for the how-to! With spring soon upon us I wanted a bracelet that was light, simple and stackable.
Search results for Bracelet
With the weather warming up, all I want to do is make summery bracelets – for myself and all of my friends. For the past few weeks I've been playing with rope and chain in attempt to make the "perfect" friendship bracelet, and I think that these come close. They are fun and easy to make, though it takes a bit of practice and patience at first. Over the weekend, I made several – and the whole family was infatuated. My mom + sisters got involved, and now we're all rocking an arm party. Give it a try.
Crochet Beaded Bracelet
Don't Eat the Paste: Crochet Beaded Wrap Bracelet Pattern