Online-team / télétravail
My sister needed a simple Web page to add Wedding information upon. The options sucked, so I wrote this. Features Very low SLOC. Suck less inspired. HTML isn't hard, though it's easier to edit with Markdown with a preview.
ws.dabase.com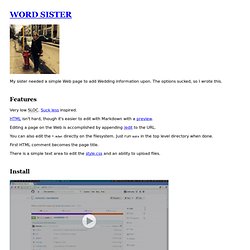 Télétravail en France, le grand bond en avant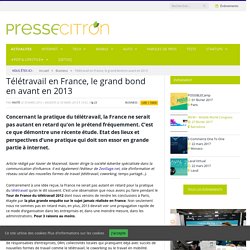 Concernant la pratique du télétravail, la France ne serait pas autant en retard qu'on le prétend fréquemment. C'est ce que démontre une récente étude. Etat des lieux et perspectives d'une pratique qui doit son essor en grande partie à internet. Article rédigé par Xavier de Mazenod.
A typology of needs for coworking spaces | Deskmag | Coworking
Every coworking advocate and enthusiast has, at some point, been confronted by the reoccurring debate that has never been solved: what exactly is a coworking space? One of the difficulties of defining coworking stems from the fact that spaces respond to a diverse range of needs and requirements in very different ways. The Maslow Pyramid of Coworking presents a dynamic classification of the needs that coworking addresses. This classification is interesting and helpful to visualize and prioritize needs, however it falls short of providing concrete advice for implementing factors that achieve them. Here is a detailed framework of needs for coworking spaces. A guest post by William van den Broek from Mutinerie, Paris:
Vous êtes sur le point d'utiliser une ressource libre issue de la vingtaine de projets du réseau Framasoft. Cette ressource est gratuite (et le sera tant que nous existerons) parce que Framasoft est une association d'intérêt général à but non lucratif dont l'objectif est justement la diffusion du logiciel libre et sa culture au plus large public. Mais tout ceci est rendu possible parce que Framasoft est soutenue par les dons (défiscalisables) de ses utilisateurs. Merci de prendre quelques minutes en nous aidant à pérenniser et développer notre action.
Framadate
6 utilitaires pour Skype qui valent le coup d'oeil
Skype est le roi de la VoIP, avec plus de 660 millions d'utilisateurs et un futur prometteur depuis son acquisition par Microsoft. Il y a peu de temps, Skype nous surprit en annonçant la fermeture de son service d'Extras, mais qui fut plus tard réinventé à travers son marché d'applications. Ces nouvelles applications apportent des fonctionnalités supplémentaires à Skype : la traduction de texte, l'enregistrement des conversations… Cette semaine, OnSoftware a sélectionné 6 utilitaires gratuits pour Skype qui font parti des meilleurs.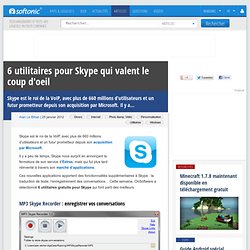 outils de communication de base
outils de travail partagé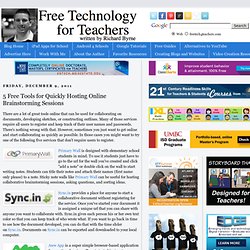 There are a lot of great tools online that can be used for collaborating on documents, developing sketches, or constructing outlines. Many of those services require all users to register and keep track of their user names and passwords. There's nothing wrong with that. However, sometimes you just want to get online and start collaborating as quickly as possible.
5 Free Tools for Quickly Hosting Online Brainstorming Sessions