Background-border-img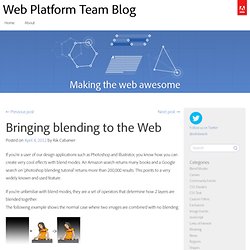 If you're a user of our design applications such as Photoshop and Illustrator, you know how you can create very cool effects with blend modes.
Bringing blending to the Web | Web Platform Team Blog
Targeting the iPhone 4 Retina Display with CSS3 Media Queries - iWalt.com
Four years ago, (eight months before the original iPhone was announced) Dave Hyatt wrote about high DPI web sites on the Surfin' Safari blog: One area of Web design that is going to become more important in the coming years is high DPI. For those of us working on WebKit, this will also become an issue for WebKit applications and for Dashboard widgets.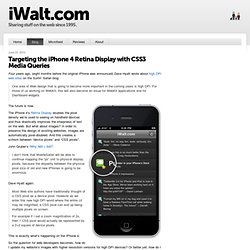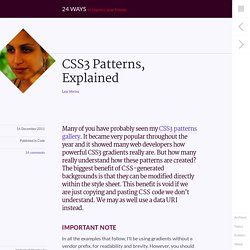 Many of you have probably seen my CSS3 patterns gallery.
background: #1e5799; /* Old browsers */ background: -moz-linear-gradient(top, #1e5799 0%, #2989d8 50%, #207cca 51%, #7db9e8 100%); /* FF3.6+ */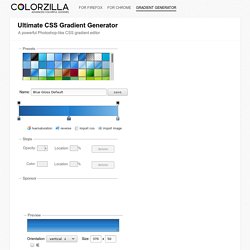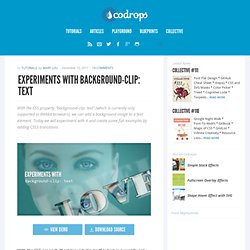 Experiments with background-clip: text
With the CSS property "background-clip: text" (which is currently only supported in Webkit browsers), we can add a background image to a text element. Today we will experiment with it and create some fun examples by adding CSS3 transitions.
Better border-radius in IE7 and IE8 | Blog | Zetafleet | Web design & development | Minneapolis, MN
Quick Fun: CSS3 Filter Effects « GirlieMac! Blog
I quickly played with the brand-new CSS Filter Effects on the latest WebKit Nightly!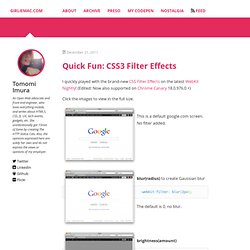 Demo: CSS3 Image Styles (Part 2)
Box-Shadow | Css3.0 Generateur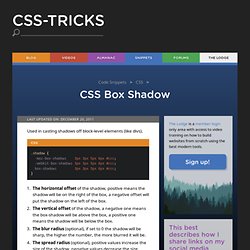 Used in casting shadows off block-level elements (like divs). The horizontal offset of the shadow, positive means the shadow will be on the right of the box, a negative offset will put the shadow on the left of the box.The vertical offset of the shadow, a negative one means the box-shadow will be above the box, a positive one means the shadow will be below the box.The blur radius (optional), if set to 0 the shadow will be sharp, the higher the number, the more blurred it will be.The spread radius (optional), positive values increase the size of the shadow, negative values decrease the size. Default is 0 (the shadow is same size as blur).Color