Flash/AS + Flex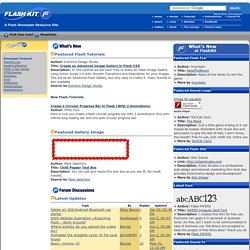 Author: Maggie On Valentine's day, some people will give Valentine gifts to lover or favorite people, such as chocolates, cards and flowers. But in recent years, Valentine???
Flash Professional Exchange
TSW Downloads - Flex, AS3, RIA's, etc's... | TSW - That Should Work Blog
Olá Pessoal, todos tranquilos? Hoje iremos nos aprofundar mais um pouco no flash. Depois da sugestão da Carla, desenvolvi uma super vídeo aula ensinando a criar aqueles efeitos de transição com blocos utilizando Action Script.
Efeito de transição de fotos em blocos com action script | MX Masters - Conhecimento a um clique
Transição com fotos e inserção da animação no dreamweaver | MX Masters - Conhecimento a um clique