Reference
Vintage Jewellery and Antique Jewellery - Vintage Jewellery and Antique Jewellery
Everything stops for tea Collectable retro antique & Vintage teaware tea & coffee sets trios cups saucers plates 18th to 20th century
SylvaC Collectors Circle
Perfect Pieces : Specialists in British Pottery
Stoke-on-Trent, Pottery and Ceramics, Tunstall, Burslem, Hanley,
Whitefriars Glass Collectors Club for collectors of glass manufa
Vintage Costume Jewellery - Home
Beads Direct UK - your best value Bead Supplier
Freepedia Homepage
POTTERY MARKS | FAMOUS POTTERS - Home
The Digital Museum of Cornish Ceramics - Home Page
Art Deco Catalogue
Garden Ornaments | Garden Antiques - Decorative Furniture
Auction freebies, how to buy and sell for free at auctions in th
Antiques and Collectables: Carano Antiques & Collectables
Morning Glory Antiques & Jewelry
MARKS REFERENCES Bly, John, Miller's Silver & Sheffiield Plate Marks (English, Continental European, and American) , Reed International Books, Ltd, 1993 Divis, Jan, Guide to Gold Marks of the World and Guide to Silver Marks of the World, English translation reprints, Promotional Reprint Co. Ltd, 1994> Pickford, Ian, ed. Jackson's Hallmarks, pocket edition (English, Scottish, Irish silver and gold marks) , Antique Collectors' Club, 1991 Pickford, Ian, ed. Jackson's Silver and Gold Marks of England, Scotland and Ireland , Antique Collectors' Club, 1989 Rainwater, Dorothy, American Jewelry Manufacturers, Schiffer Publishing, 1988 Tardy, International Hallmarks on Silver , Tardy, Paris, 1993 Tardy, Poinçons d'Or et de Platine (French text), Tardy, Paris, 1988 Wyler, Seymour B., The Book of Old Silver (English, European, American) , Crown Publishers, 1937 (still in print) Back to the top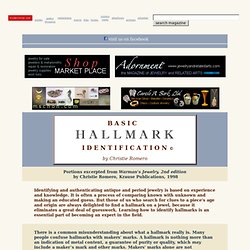 Basic Hallmarks Identification
Birmingham Date Letter Chart - Online Encyclopedia of Silver Mar
Online Auctions at Overstock.com. Jewelry Auctions, Coin Auction
Online Auction Search - Online Auction - CQout
Online Auctions - the complete list of UK On line auction Sites
GAUK Online | UK Government Auction Sales - Police Auctions - Ca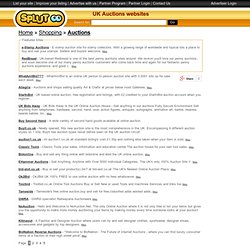 UK Auctions websites
e-Stamp Auctions - E stamp auction site for stamp collectors. With a growing range of worldwide and topical lots a place to buy and sell your stamps. Sellers and buyers welcome. Map small business marketing uk - small business advice on advertising marketing and the rapid results system Map RedBread - UK-based Redbread is one of the best penny auctions sites around.
UK Online Auction Help