Reference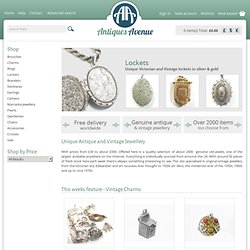 With prices from £30 to about £500. Offered here is a quality selection of about 2000 genuine old jewels, one of the largest available anywhere on the Internet. Everything is individually sourced from arround the UK. With around 50 pieces of fresh stock here each week there's always something interesting to see. This site specialised in original vintage jewellery from the Victorian era, Edwardian and art nouveau eras thought to 1920s art deco, the modernist eras of the 1950s, 1960s and up to circa 1970s.
Vintage Jewellery and Antique Jewellery - Vintage Jewellery and Antique Jewellery
WWWelcome to Everything Stops for TeaWe hope you will find our shop easy to browse, the checkout system quick and easy, CPI compliant secure payments and more payment options available. All purchases now earn our customers loyalty points which can be collected and used for future purchases. There is the option to view your purchases in USD, AUD, Euro and JPY
Everything stops for tea Collectable retro antique & Vintage teaware tea & coffee sets trios cups saucers plates 18th to 20th century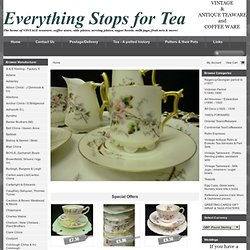 SylvaC Collectors Circle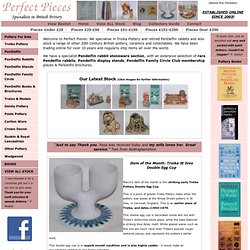 Perfect Pieces : Specialists in British Pottery
Welcome to Perfect Pieces. We specialise in Troika Pottery and retired PenDelfin rabbits and also stock a range of other 20th Century British pottery, ceramics and collectables. We have been trading online for over 10 years and regularly ship items all over the world. We have a specialist Pendelfin rabbit stoneware section, with an extensive selection of rare Pendelfin rabbits, Pendelfin display stands, Pendelfin Family Circle Club membership pieces & PenDelfin brochures. "I am absolutely delighted with both the item itself and your service.
Stoke-on-Trent, Pottery and Ceramics, Tunstall, Burslem, Hanley,
Whitefriars Glass Collectors Club for collectors of glass manufa
Vintage Costume Jewellery - Home
Shop Swarovski by Color Shopping for sensational SWAROVSKI ELEMENTS just got simpler! Shop all Swarovski shapes, styles and sizes in every one of these splendid shades!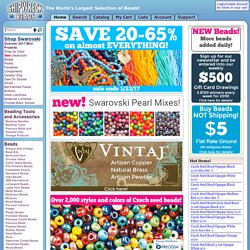 Freepedia is a series of free encyclopaedias. We currently specialize in the historical research of period properties but we intend to branch out into other areas. Entries usually include a narrative, illustrations and primary sources. The text within each entry is linked to other relevant pages in the encyclopedia and on the web. In this way it is possible to research individual people and property styles in great detail.
Freepedia Homepage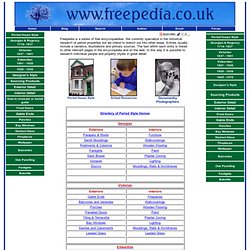 POTTERY MARKS | FAMOUS POTTERS - Home
Thematic collections Disney's Bambi Collecting objects to do with a particular subject is popular. Favourites include famous characters, pets, farm or wild animals and birds. Sporting themes, especially golf and cricket, which appeal to many collectors are priced accordingly.
The Digital Museum of Cornish Ceramics - Home Page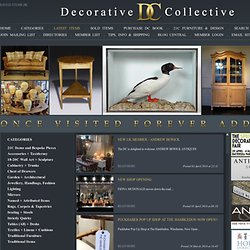 Garden Ornaments | Garden Antiques - Decorative Furniture
Incredibly Eclectic Style - Home and Garden Decorative Antiques Decorative Antiques and Art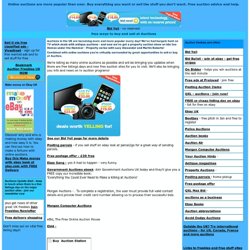 Auction freebies, how to buy and sell for free at auctions in th
Auctions in the UK are becoming more and more popular every day! We've had bargain hunt on TV which deals with antique auctions - and now we've got a property auction show on bbc too Homes under the Hammer - Property series with Lucy Alexander and Martin Roberts! Combined with online auctions you're virtually surrounded by great opportunities to sell or buy at Auction. We're listing as many online auctions as possible and will be bringing you updates when there are free listings days and new free auction sites for you to visit. We'll also be bringing you info and news on tv auction programs! See our Bid Yell page for more details
Request ======= GET / HTTP/1.0 HTTPS: off, off Host: www.carano.co.uk User-Agent: Mozilla/5.0 (X11; U; Linux i686 (x86_64); en-US; rv:1.9.2.10) Gecko/20100914 Firefox/3.6.10 Accept: text/html, application/xhtml+xml, application/xml;q=0.9, */*;q=0.8 Accept-Language: en-us, en;q=0.5 Accept-Charset: ISO-8859-1, utf-8;q=0.7, *;q=0.7 Keep-Alive: 115 Connection: close X-Forwarded-For: 93.184.35.50 X-Version-Shortcut: true Account: 1804098 Server: apoc11 Streamed Request. (Length: 0 Read: 0) Parameters ========== account = 1804098 remainingpath = Error ===== Site is unavailable. [imergent.site.ConstructionException] imergent.site.SiteHandler.process(SiteHandler.java:542) imergent.http.HttpResponse.process(HttpResponse.java:390) imergent.http.Worker.run(Worker.java:283)
Antiques and Collectables: Carano Antiques & Collectables
Morning Glory Antiques & Jewelry
MARKS REFERENCESBly, John, Miller's Silver & Sheffiield Plate Marks (English, Continental European, and American), Reed International Books, Ltd, 1993Divis, Jan, Guide to Gold Marks of the World and Guide to Silver Marks of the World, English translation reprints, Promotional Reprint Co. Ltd, 1994>Pickford, Ian, ed. Jackson's Hallmarks, pocket edition (English, Scottish, Irish silver and gold marks), Antique Collectors' Club, 1991Pickford, Ian, ed. Jackson's Silver and Gold Marks of England, Scotland and Ireland, Antique Collectors' Club, 1989Rainwater, Dorothy, American Jewelry Manufacturers, Schiffer Publishing, 1988Tardy, International Hallmarks on Silver, Tardy, Paris, 1993Tardy, Poinçons d'Or et de Platine (French text), Tardy, Paris, 1988Wyler, Seymour B., The Book of Old Silver (English, European, American), Crown Publishers, 1937 (still in print)Back to the top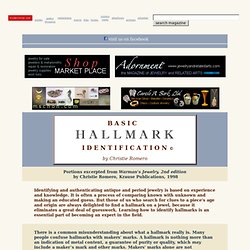 Basic Hallmarks Identification
Birmingham Date Letter Chart - Online Encyclopedia of Silver Mar
Online Auctions at Overstock.com. Jewelry Auctions, Coin Auction
Online Auction Search - Online Auction - CQout
Online Auctions - the complete list of UK On line auction Sites
GAUK Online | UK Government Auction Sales - Police Auctions - Ca
Get an Amazing 25%, 50% or Even a Massive 80% off Retail Prices by Buying at Auctions Property, Cars, Vans, Computers, Plasma TVs, LCDs, iPods, iPads, Bankrupt Stock, Cameras, Antiques, Mobile Phones All at Auction... Buy cheaply at Auction for UP TO 80% BELOW RRP, keep your bargain or sell on straight away for a quick, juicy profit! and welcome, welcome, welcome to the gauk Network of websites (pronounced 'gawk' and meaning simply 'to find it cheaper') ... You've found easily the largest, most comprehensive auction product and event alert service of its kind in Britain GUARANTEED. The place to track down and be alerted to all the fantastic items being sold right now at prices that would often seem, well frankly, absurd!
UK Auctions websites
WhatAmIBid??? - WhatAmIBid is an online UK person to person auction site with 3,000+ lots up for sale each week. Map Allegria - Auctions and shops selling quality Art & Crafts at prices below most Galleries. Map StartnBid - UK based online auction, free registration and listings, with £2 credited to your StartnBid auction account when you register...
Ever since eBay crossed the Atlantic in 1999 and became one of the first of the rivals have come and in many cases gone. Currently there are over 30 although eBay.co.uk is still the largest and most well known. In recent years, internationally eBay has come under considerable criticism for both poor customer care and the ever increasing fees that it charges. There have also been complaints about the number of counterfeit and fake goods that are offered for sale through eBay.
UK Online Auction Help