Reference
Vintage Jewellery and Antique Jewellery - Vintage Jewellery and Antique Jewellery. Everything stops for tea Collectable retro antique & Vintage teaware tea & coffee sets trios cups saucers plates 18th to 20th century. SylvaC Collectors Circle. Perfect Pieces : Specialists in British Pottery. Stoke-on-Trent, Pottery and Ceramics, Tunstall, Burslem, Hanley, Whitefriars Glass Collectors Club for collectors of glass manufa. Vintage Costume Jewellery - Home. Shipwreck Beads - The World's Largest Selection of Beads! Beads Direct UK - your best value Bead Supplier. Freepedia Homepage.
POTTERY MARKS | FAMOUS POTTERS - Home. The Digital Museum of Cornish Ceramics - Home Page. Garden Ornaments | Garden Antiques - Decorative Furniture. Auction freebies, how to buy and sell for free at auctions in th. Antiques and Collectables: Carano Antiques & Collectables. Morning Glory Antiques & Jewelry. Basic Hallmarks Identification. MARKS REFERENCESBly, John, Miller's Silver & Sheffiield Plate Marks (English, Continental European, and American), Reed International Books, Ltd, 1993Divis, Jan, Guide to Gold Marks of the World and Guide to Silver Marks of the World, English translation reprints, Promotional Reprint Co.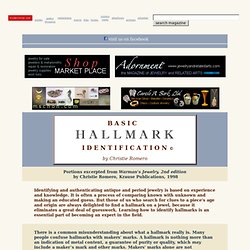 Ltd, 1994>Pickford, Ian, ed. Jackson's Hallmarks, pocket edition (English, Scottish, Irish silver and gold marks), Antique Collectors' Club, 1991Pickford, Ian, ed. Jackson's Silver and Gold Marks of England, Scotland and Ireland, Antique Collectors' Club, 1989Rainwater, Dorothy, American Jewelry Manufacturers, Schiffer Publishing, 1988Tardy, International Hallmarks on Silver, Tardy, Paris, 1993Tardy, Poinçons d'Or et de Platine (French text), Tardy, Paris, 1988Wyler, Seymour B., The Book of Old Silver (English, European, American), Crown Publishers, 1937 (still in print)Back to the top.
Birmingham Date Letter Chart - Online Encyclopedia of Silver Mar. Online Auctions at Overstock.com. Jewelry Auctions, Coin Auction. Online Auction Search - Online Auction - CQout. Online Auctions - the complete list of UK On line auction Sites. GAUK Online | UK Government Auction Sales - Police Auctions - Ca. UK Auctions websites. WhatAmIBid???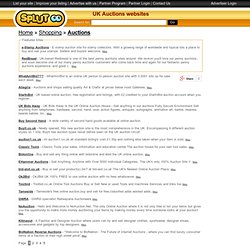 - WhatAmIBid is an online UK person to person auction site with 3,000+ lots up for sale each week. Map Allegria - Auctions and shops selling quality Art & Crafts at prices below most Galleries. Map StartnBid - UK based online auction, free registration and listings, with £2 credited to your StartnBid auction account when you register... UK Online Auction Help.
---