Fundraising
Celebrity Charity News, Events, Organizations & Causes
Chris Beardshaw A regular sea user, the award-winning garden designer, TV presenter and Gardener's Question Time regular Chris Beardshaw is an avid supporter of the RNLI. Chris designed the RNLI garden at the National Memorial Arboretum in Staffordshire, to take visitors on a 'rescue journey' showing the relationship between the crew, the rescued person and their families – all of whose lives become woven together during a rescue mission. The Chris Beardshaw rose, launched at the Hampton Court Flower Show, raises £2.50 for the RNLI for every rose sold. chrisbeardshaw.com
Celebrity supporters helping the RNLI
The Prospect Research Toolkit - Home
funderfinder.org.uk - Home page
CVS Tendring | Open4Community
Scheme summary | Open4Community
The Wheelyboat Trust. Support Us. Donate. Legacies. Volunteer. Fundraising. Corporate Sponsorship.
The Wheelyboat Trust relies on the support of individuals, companies and charitable organisations to fund its activities, including new Wheelyboat placements and the development of new models. There are many ways you can help the Trust both financially and otherwise to continue as a successful charity and to expand further in the future. Donations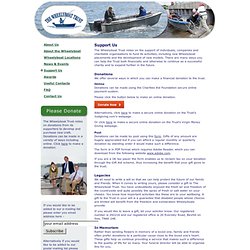 how2fundraise.org | Home
funderfinder.org.uk - Home page
Community Organization Fundraising with the Powers of Persuasion
grants for charities uk
Grantsnet - UK grants and funding information
Business, Voluntary and Community sector grant information for t
Borough Information - Government Offices | London
Modernisation Fund ~ Real Help for Communities
Heritage Funding Directory
Search Results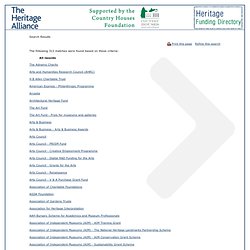 DISCS working to eliminate back pain
The Trusthouse Charitable Foundation - Type of grants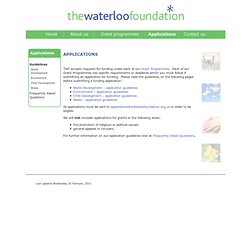 TWF accepts requests for funding under each of our Grant Programmes. Each of our Grant Programmes has specific requirements or deadlines which you must follow if submitting an application for funding.
The Waterloo Foundation - Applications
Fundraising Ideas, Products, Free Sample Fundraising Letters to
The Rt Hon Lord Skelmersdale's Biography Forename(s)
The Rt Hon Lord Skelmersdale Authorised Biography – Debrett's Pe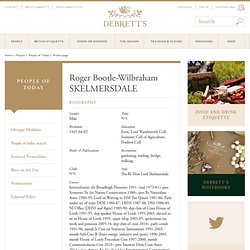 Heritage Funding Directory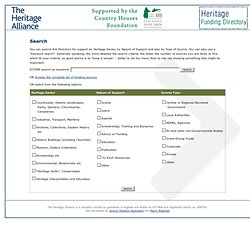 You can search this Directory for support by Heritage Sector, by Nature of Support and also by Type of Source. You can also use a "keyword search". Generally speaking, the more detailed the search criteria, the fewer the number of sources you are likely to find which fit your criteria, so good advice is to "keep it simple" – better to list too many than to risk not showing something that might be important.
Nonprofit Fundraising and Grantwriting
This topic in the Library will help nonprofit leaders and staff learn to understand the various/varied elements of fundraising, to recognize the importance of the relationship between an organization and its potential donors, and to construct and implement a strong fundraising plan/program for their nonprofits.
Welcome to the Official Fundraising Handbook