Blogs/Sites
Cuypi | fuckin' awesome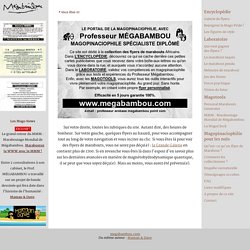 Marabouts de Papier
Sur votre droite, toutes les rubriques du site. Autant dire, des heures de bonheur. Sur votre gauche, Monsieur MÉGABAMBOU vous accueille et vous propose sur chaque page un flyer différent, extrait de sa collection. Si le coeur vous en dit, cliquez sur le flyer pour accéder à sa fiche détaillée.
How to Promote Your Work on Behance As many of you already know, Behance is a world leader in helping creatives around the world promote their work. On Behance you can showcase your best works, connect with others, and build your reputation among fellow designers and artists. One could even argue that Behance has become a hotspot... continue reading Want to Learn a New Language?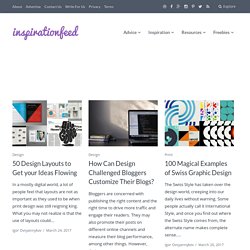 Comme vous le savez déjà, si vous me lisez régulièrement, je suis folle des vernis. J'adore me faire les ongles, que les mains se voient sublimées par une touche de couleur… et si ça peut être en tons pastels (ou rouge), alors là, je suis ravie. J'aime énormément aussi les vernis nude, mais normalement, ils sont pratiquement transparents avec un touche de couleur très légère, soit rose, soit beige, ce qui est dommage car on ne peut jamais porter de la vrai couleur nude.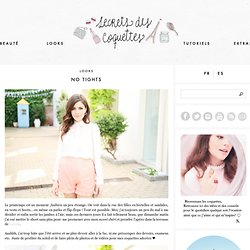 Gossip Girl en Streaming - Séries en Streaming FR, VO et VOSTFR
crappy music
SCM Music Player is a free and open source web music player, that brings a seamless music experience to your website. Support Tumblr, Blogger and various blogs. Continous Playback Cross Pages - Seamless playback throughout your website. Full Featured Control - Play, pause, next, previous, seek, shuffle, repeat mode, volume and more.Custom Skins - Match your look and feel. Choose or design your own skin with CSS.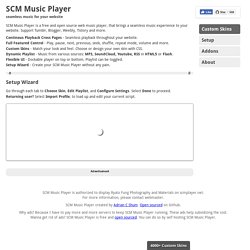 Blog de ooil0veparisoo - Page 16 - * C A P * - Skyrock.com
You're seeing this page because you haven't uploaded any files yet. You can connect to your website via FTP using these instructions and upload your website. Alternatively you can use RVSiteBuilder which is available inside of the control panel to start building your website.
the satirialist | Le premier contre-blog mode. De la fashion, du people et de la branchitude sans langue de bois (ni pages de pub)