Foursquare
Retour sur une campagne géociblée avec PassBook (cinéma Gaumont) | Telecom trends & Digital wonders
Update
how ______ are you?
EDHEC Business School :: Croix, Nord-Pas-de-Calais
On Wednesday, foursquare made a clarification to one of the rules for their API that aims to make sure users are honestly reporting their locations. It's a move that will make it easier to shut down services that enable "jumpers" to dishonestly report their locations in order to earn badges or mayorships. In a note on foursquare's developer site, foursquare Platform Evangelist Akshay Patil wrote:
Foursquare moves to keep location reporting honest
Internet firms grow on concept of copy and conquer | Local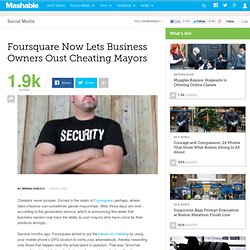 Cheaters never prosper.
Foursquare Now Lets Business Owners Oust Cheating Mayors
Votre position : Home » Actualité » Foursquare se déploie sur les campus L'an passé Foursquare a montré son intérêt pour le monde universitaire en proposant des badges pour les étudiants . Réservés dans un premier temps pour une petite sélection de campus Américains, le programme va être étendu à toutes les universités dans le monde. Je vous propose de découvrir les dessous de cette intégration très attendue au sein des milieux de l'éducation.
Foursquare se déploie sur les campus
J'ai appris hier soir que le service de géolocalisation Gowalla était une start-up originaire d'Austin.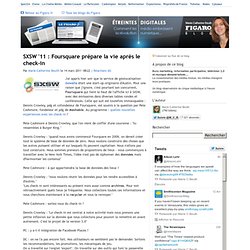 SXSW '11 : Foursquare prépare la vie après le check-in
Q&A with Foursquare's Evan Cohen on Social, Local & Mobile - Search Engine Watch (SEW)
New swarm badges let you commemorate all the biggest events you attend
UPDATE: Sadly, it looks like multiple swarm badges weren't meant to be. Foursquare PR Manager Erin Gleason lets us know that it was an internal-only test that was accidentally made public temporarily. It has already been rolled back.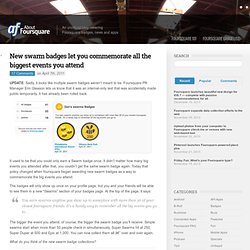 When a business starts showing foursquare tips on a screen for every customer to see, the last thing they want is a tip to pop up saying "Stay away from the cheeseburgers, they're terrible!"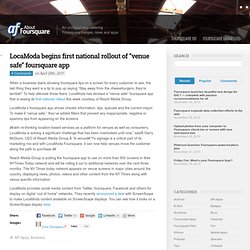 LocaModa begins first national rollout of "venue safe" foursquare app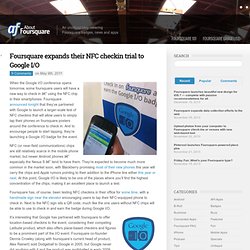 Foursquare expands their NFC checkin trial to Google I/O
When the Google I/O conference opens tomorrow, some foursquare users will have a new way to check in — using the NFC chip in their smartphones.