Foursquare
Retour sur une campagne géociblée avec PassBook (cinéma Gaumont) | Telecom trends & Digital wonders. Update. How ______ are you? EDHEC Business School :: Croix, Nord-Pas-de-Calais. Foursquare moves to keep location reporting honest. On Wednesday, foursquare made a clarification to one of the rules for their API that aims to make sure users are honestly reporting their locations.
It's a move that will make it easier to shut down services that enable "jumpers" to dishonestly report their locations in order to earn badges or mayorships. In a note on foursquare's developer site, foursquare Platform Evangelist Akshay Patil wrote: Internet firms grow on concept of copy and conquer | Local. Foursquare Now Lets Business Owners Oust Cheating Mayors. Cheaters never prosper.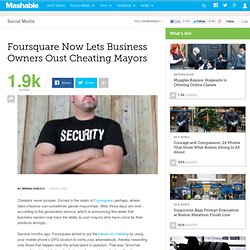 Except in the realm of Foursquare, perhaps, where false checkins can sometimes garner mayorships. Well, those days are over, according to the geolocation service, which is announcing this week that business owners now have the ability to oust mayors who have come by their positions wrongly. Several months ago, Foursquare aimed to put the kibosh on cheating by using your mobile phone's GPS location to verify your whereabouts, thereby rewarding only those that happen near the actual place in question.
That way "armchair mayors" would be foiled, and only the worthy would reap the benefits of mayordom. Foursquare se déploie sur les campus. Votre position : Home » Actualité » Foursquare se déploie sur les campus L'an passé Foursquare a montré son intérêt pour le monde universitaire en proposant des badges pour les étudiants .
Réservés dans un premier temps pour une petite sélection de campus Américains, le programme va être étendu à toutes les universités dans le monde. Je vous propose de découvrir les dessous de cette intégration très attendue au sein des milieux de l'éducation. SXSW '11 : Foursquare prépare la vie après le check-in. J'ai appris hier soir que le service de géolocalisation Gowalla était une start-up originaire d'Austin.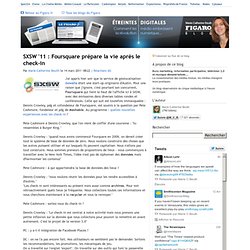 Pour une raison que j'ignore, c'est pourtant son concurrent, Foursquare qui tient le haut de l'affiche ici à SXSW, avec des émissaires dans diverses tables rondes et conférences. Celle qui suit est toutefois immanquable : Dennis Crowley, pdg et cofondateur de Foursquare, est soumis à la question par Pete Cashmore, fondateur et pdg de Mashable. Au programme : quelles nouvelles expériences avec les check-in ? Pete Cashmore à Dennis Crowley, que l'on vient de coiffer d'une couronne : "tu ressembles à Burger King. " Q&A with Foursquare's Evan Cohen on Social, Local & Mobile - Search Engine Watch (SEW) Last month we explored Foursquare's evolution into a local discovery engine -- representing a trend in mobile local search apps.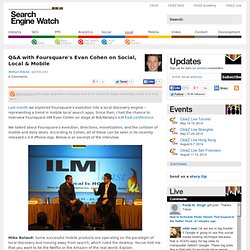 Since then, I had the chance to interview Foursquare GM Evan Cohen on stage at BIA/Kelsey's ILM East conference. We talked about Foursquare's evolution, directions, monetization, and the collision of mobile and daily deals. According to Cohen, all of these can be seen in its recently released v 3.0 iPhone App. Below is an excerpt of the interview. New swarm badges let you commemorate all the biggest events you attend. UPDATE: Sadly, it looks like multiple swarm badges weren't meant to be.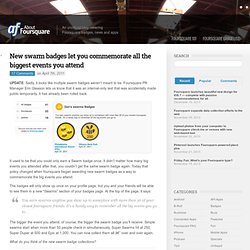 Foursquare PR Manager Erin Gleason lets us know that it was an internal-only test that was accidentally made public temporarily. It has already been rolled back. LocaModa begins first national rollout of "venue safe" foursquare app. When a business starts showing foursquare tips on a screen for every customer to see, the last thing they want is a tip to pop up saying "Stay away from the cheeseburgers, they're terrible!"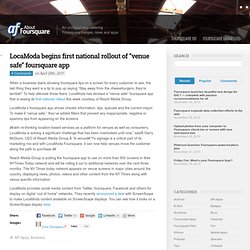 To help alleviate those fears, LocaModa has devised a "venue safe" foursquare app that is seeing its first national rollout this week courtesy of Reach Media Group. LocaModa's foursquare app shows checkin information, tips, specials and the current mayor. To make it "venue safe," they've added filters that prevent any inappropriate, negative or spammy tips from appearing on the screens. "In re-thinking location-based services as a platform for venues as well as consumers, LocaModa is solving a significant challenge that has been overlooked until now," said Garry McGuire, CEO of Reach Media Group. "A venue's signage is a critical part of its marketing mix and with LocaModa Foursquare, it can now help venues move the customer along the path to purchase." Foursquare expands their NFC checkin trial to Google I/O. When the Google I/O conference opens tomorrow, some foursquare users will have a new way to check in — using the NFC chip in their smartphones.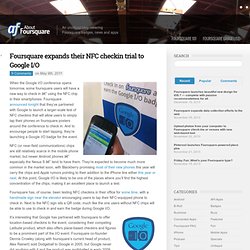 Foursquare announced tonight that they've partnered with Google to launch a larger-scale test of NFC checkins that will allow users to simply tap their phones on foursquare posters around the conference to check in. And to encourage people to start tapping, they're launching a Google I/O badge for the event. NFC (or near-field communications) chips are still relatively scarce in the mobile phone market, but newer Android phones — especially the Nexus S — tend to have them.
---