Inspiration sites corpo
ThinkBank. A leading energy company in oil and gas production. Adecco Group USA website. 55 Fresh Examples Of Corporate Website Designs. As you already seen in 80 Corporate Website Designs that a perfect layout, A good design and nice resources can produce a creative output.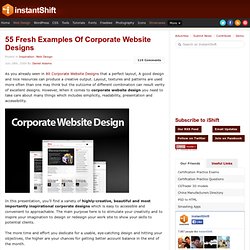 Layout, textures and patterns are used more often than one may think but the outcome of different combination can result verity of excellent designs. However, When it comes to corporate website design you need to take care about many things which includes simplicity, readability, presentation and accessibility. 40 Beautiful Corporate Websites. In today's marketplace, every company needs an effective website.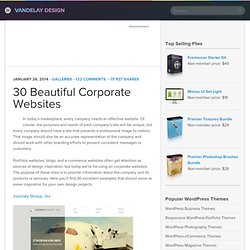 Of course, the purposes and needs of each company's site will be unique, but every company should have a site that presents a professional image to visitors. That image should also be an accurate representation of the company and should work with other branding efforts to present consistent messages to customers. Portfolio websites, blogs, and e-commerce websites often get attention as sources of design inspiration, but today we're focusing on corporate websites. The purpose of these sites is to provide information about the company and its products or services. Here you'll find 30 excellent examples that should serve as some inspiration for your own design projects.
---