URBANISM
Parks. Transport. 'Transportation poverty' predicted for Cincinnati's aging Baby Boomer population — UrbanCincy. A new report, Aging in Place, Stuck without Options: Fixing the Mobility Crisis Threatening the Baby Boom Generation, released by Transportation for America finds that more than 64 percent of Cincinnati's population between the ages of 65 and 79 will have poor transit access by 2015.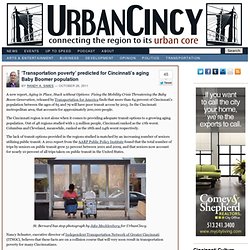 In the Cincinnati metropolitan area, that accounts for approximately 200,000 people. The Cincinnati region is not alone when it comes to providing adequate transit options to a growing aging population. The parable of Detroit: So cheap, there's hope. BBC - The Code - The Wisdom of the Crowd. GaWC Research Bulletin 344. This Research Bulletin has been published in Urban Studies, 49 (5), (2012), 1127-1149. doi:10.1177/0042098011407095 Please refer to the published version when quoting the paper.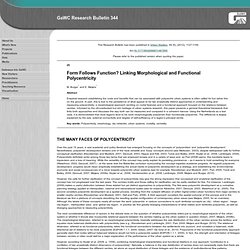 Satellite images of Earth show roads, air traffic, cities at night and internet cables. Air traffic routes are shown between North America and Europe.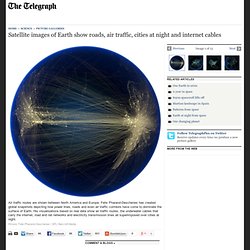 Felix Pharand-Deschenes has created global snapshots depicting how power lines, roads and even air traffic corridors have come to dominate the surface of Earth. His visualisations based on real data show air traffic routes, the underwater cables that carry the internet, road and rail networks and electricity transmission lines all superimposed over cities at night. Global population growth fears put to the test in Africa's expanding cities | Environment | The Observer. John Baliruno, of Mpigi in central Uganda, has fathered nine children.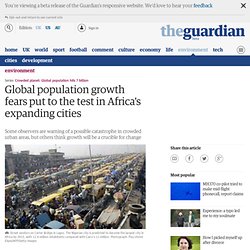 "I never intended to have such a big number," he reflected last week. "I with my wife had no knowledge of family planning and ended up producing one child after another. Rapidly Growing Cities Adopt Smart Technology. Cities are experiencing one of the biggest booms since the Industrial Revolution got under way.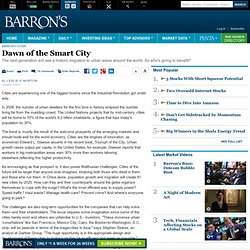 In 2008, the number of urban dwellers for the first time in history eclipsed the number living far from the madding crowd. The United Nations projects that by mid-century, cities will be home to 70% of the world's 9.2 billion inhabitants, a figure that tops today's population by 30%. Livestream of Homework: Infrastructures & Collaboration in Social Practices Conference.
Designing cities of the future | What future urban living. WALKABLE Dallas-Fort Worth: Pioneers Get the Arrows, Also Spread Small-Pox. Sylvan:Thirty and the West Dallas Plan There is an old saying in real estate development, "pioneers get the arrows, the settlers get the land.
" Most urban planning, as we know it, is an attempt to get out in front of those inevitable conflicts between past, present, and future. We like to think all places are permanent. What's Missing from the Latest Census Income Calculations - Jobs & Economy. Congratulations, greater Washington D.C.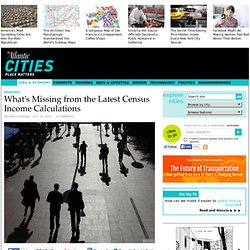 You're the highest income metro in the nation, surpassing the much ballyhooed Silicon Valley, according to newly released 2010 Census data. The median household income for the D.C. metro area was $84,523, compared to $50,046 for the nation. A report over at Bloomberg credits this to federal spending, public sector employment, government contracting, lobbying and lawyers. +Augmented Urban Spaces.
SALVIAMO IL PAESAGGIO - DIFENDIAMO I TERRITORI | Forum Nazionale per la difesa del paesaggio e dei suoli fertili. Stop Al Consumo di Territorio. Tutti gli aggiornamenti sulla campagna per lo stop al consumo di territorio li trovate qui: Continua la Campagna nazionale "Salviamo il paesaggio, difendiamo i territori" Un censimento per capire quanti sono gli edifici sfitti e inutilizzati in tutta Italia Lunedì 27 febbraio 2012 in tutta Italia si è avviato un censimento dal basso del patrimonio edilizio esistente.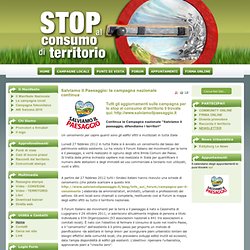 Lo ha voluto il Forum italiano dei movimenti per la terra e il paesaggio, e verrà realizzato in ognuno degli oltre 8mila Comuni del Paese.Si tratta della prima inchiesta capillare mai realizzata in Italia per quantificare il numero delle abitazioni e degli immobili ad uso commerciale e terziario non utilizzati, vuoti e sfitti.
I Comuni che dicono «basta così» Piani regolatori a crescita zero. Scelta controcorrente rispetto a chi sfrutta gli oneri di urbanizzazione I Comuni che dicono «basta così»Piani regolatori a crescita zero Stop a permessi per costruzioni su terreno vergine o varianti per rendere edificabile un terreno agricolo Il piano di Milano Santa Giulia, ad alto consumo di territorio.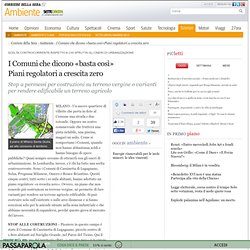 Taifunschutz in Tokio: Unterirdische Kathedralen sammeln Regenfluten - SPIEGEL ONLINE - Nachrichten - Wissenschaft. Hamburg - "Roke" ist der 15.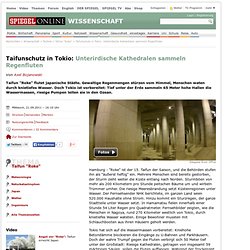 Taifun der Saison, und die Behörden stufen ihn als "äußerst heftig" ein. Mehrere Menschen sind bereits gestorben, der Sturm zieht weiter die Küste entlang nach Norden. Sturmböen von mehr als 200 Kilometern pro Stunde peitschen Bäume um und wirbeln Trümmer umher. Uld cities' problems be solved by urban acupuncture? | Guardian Sustainable Business. Urban acupuncture favours a localised and community approach to urban renewal projects. Photograph: Jon Feingersh/Getty Images/Blend Images RR Around the world, mass migration from the countryside to cities surges. Why Americans Love Chain Stores: A Psychological Perspective - Arts & Lifestyle.
With Nils concept car, Volkswagen imagines urban future. German automaker Volkswagen this week unveiled its vision of an urban future with the Nils, a single-seat electric vehicle designed for "minimalist mobility. " (Sound familiar? It's the polished version of the single-seat concept we told you about three weeks ago.) Revealed at the Frankfurt Motor Show, the concept car touts an aluminum frame, top-hinged doors and exposed wheels on the outside and a zero-emissions powertrain on the inside.
And the company isn't kidding about urban mobility -- with a range of just 40 miles (it tops out at 81 m.p.h.), this is definitively a city car, not a weekend cruiser. Understandably, the concept is designed for Europeans, not Americans: 74 percent of all commuters who live between Berlin and Munich drive less than 16 miles to work, according to the German Federal Statistical Office. The Road to Exurbia. Essay: James Barilla [All photos by James Barilla, except as noted] Each year, by his own calculation, my dad drives as many miles as the circumference of the earth.
Our Picks From Next American City's Top Apps & Tools for Civic Engagement. As mutual advocates of issues central to the future of cities, Next American City is just one of the resources that EngagingCities staff refers to from time to time in search of the top trends and tools related to socially and environmentally sustainable economic growth in America's cities. Recently, Next American City Magazine published a comprehensive list of best apps, websites and software for enhancing and improving urban life.
The list included tools affiliated with everything from city governance (ie: Diydemocracy and Datamasher), mapping and transportation (ei: Walkscore and Routeshout) to "living well" (Streetartview and Sportaneous). And our favorite - the robust civic engagement tools section with a list available specifically for community building, designed to help facilitate urban planning by engaging citizens to volunteer, share news and open lines of communication. Here, we've highlighted just a few of our favorites: Urbanology: An Online Game to Teach Users About Sustainability - Kaid Benfield - Life.
The 25 Most Economically Powerful Cities in the World - Jobs & Economy. Creating-balanced-cities-interview-tia-kansara from... Architecture, urbanism, design and behaviour: a brief review | Design with Intent. GaWC - World City Research. Is 'Urbanism Without Effort' the Best Urbanism of All?
---