Public space ?
"Freedom of Assembly: Public Space Today" by AIA Panel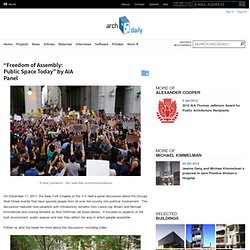 On December 17, 2011, the New York Chapter of the AIA held a panel discussion about the Occupy Wall Street events that have spurred people from all over the country into political involvement.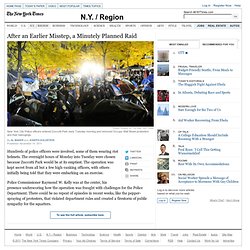 Robert Stolarik for The New York Times
Police Clear Zuccotti Park With Show of Force, Bright Lights and Loudspeakers
Just How Much Can the State Restrict a Peaceful Protest?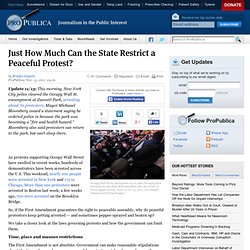 Update 11/15: This morning, New York City police cleared the Occupy Wall St. encampment at Zuccotti Park, arresting about 70 protesters [1] .
Sometime around 1:00 a.m. on Tuesday morning, New York City police officers moved in on Zuccotti Park, ejecting Occupy Wall Street protesters and clearing the camp of their tents and belongings. The surprise move set off a wild night of confrontations, rumors, and arrests in downtown Manhattan.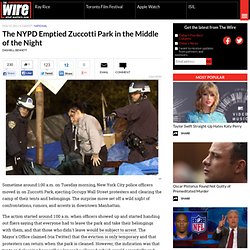 The NYPD Emptied Zuccotti Park in the Middle of the Night - National
Live Updates: Standoff at Zuccotti Park
Update (7:03 p.m.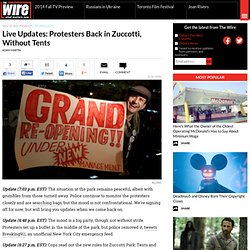 At Least 70 Arrested as Police Clear NYC Occupy Wall Street Camp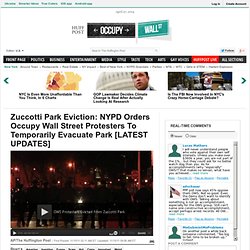 Zuccotti Park Eviction: NYPD Orders Occupy Wall Street Protesters To Temporarily Evacuate Park [LATEST UPDATES]
Via HuffPost Miami: When an Occupy Miami member offered evicted protestors vacant apartments in a building he owns in Downtown Miami's Overtown neighborhood, it seemed like the perfect solution: the 'Peace City' space would provide headquarters for the movement and shelter a small faction of the group's most vulnerable members.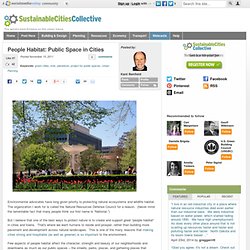 Environmental advocates have long given priority to protecting natural ecosystems and wildlife habitat. The organization I work for is called the Natural Resources Defense Council for a reason.
People Habitat: Public Space in Cities
Occupy Wall Street: New York police begin clearing Zuccotti Park | World news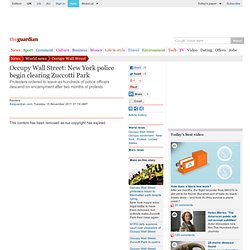 Occupy Wall Street protesters make signs under the watchful eyes of a police officer in Zuccotti Park, New York.
Judge Lucy Billings, who signed Occupy Wall Street order, is an ACLU veteran 
When the cops raided Zuccotti Park, lawyers for Occupy Wall Street woke up a judge with a civil liberties background and asked for help. Manhattan Supreme Court Justice Lucy Billings signed an early-morning order temporarily barring cops from keeping protesters and tents out of Zuccotti Park.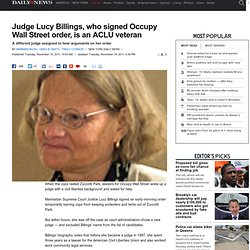 Poetry News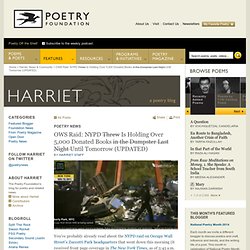 OWS Raid: NYPD Threw Over 5,000 Donated Books in the Dumpster Last Night : Harriet Staff : Harriet the Blog
Here's What Last Night's Occupy Wall Street Raid Looked Like Through Cellphones
Oakland Mayor Jean Quan (photo: Ella Baker Center)
Oakland Mayor Jean Quan Admits Cities Coordinated Crackdown on Occupy Movement | capitoilette
7.28am / 2.28am ET: The Occupy Wall Street protest camp in New York's Zuccotti Park has been removed by police in an overnight operation.
Occupy Wall Street: police evict protesters - live updates | News
City of London Corporation Planning & Highways committee decides to re-commence legal process to move tents off highway at St Paul's
Skip to main content