Public space ?
"Freedom of Assembly: Public Space Today" by AIA Panel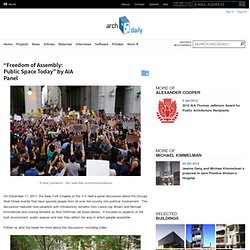 On December 17, 2011, the New York Chapter of the AIA held a panel discussion about the Occupy Wall Street events that have spurred people from all over the country into political involvement.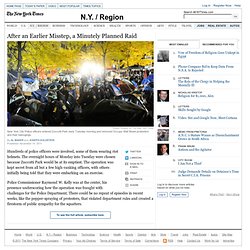 Robert Stolarik for The New York Times
Police Clear Zuccotti Park With Show of Force, Bright Lights and Loudspeakers
Just How Much Can the State Restrict a Peaceful Protest?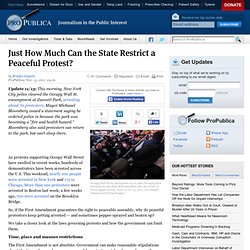 If the First Amendment guarantees the right to peaceful protest, why do peaceful protesters get arrested — and sometimes pepper-sprayed and beaten up?
Sometime around 1:00 a.m. on Tuesday morning, New York City police officers moved in on Zuccotti Park, ejecting Occupy Wall Street protesters and clearing the camp of their tents and belongings. The surprise move set off a wild night of confrontations, rumors, and arrests in downtown Manhattan. The action started around 1:00 a.m. when officers showed up and started handing out fliers saying that everyone had to leave the park and take their belongings with them, and that those who didn't leave would be subject to arrest.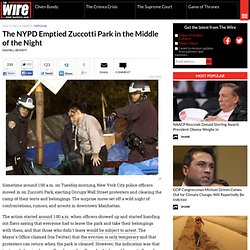 The NYPD Emptied Zuccotti Park in the Middle of the Night - National
Live Updates: Standoff at Zuccotti Park
Update (7:03 p.m. EST): The situation at the park remains peaceful, albeit with grumbles from those turned away. Police continue to monitor the protesters closely and are searching bags, but the mood is not confrontational.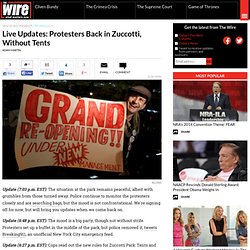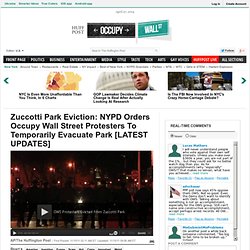 Zuccotti Park Eviction: NYPD Orders Occupy Wall Street Protesters To Temporarily Evacuate Park [LATEST UPDATES]
Share + Via HuffPost Miami: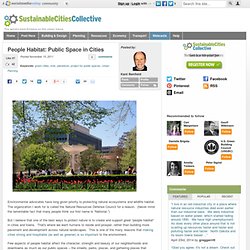 Environmental advocates have long given priority to protecting natural ecosystems and wildlife habitat. The organization I work for is called the Natural Resources Defense Council for a reason.
People Habitat: Public Space in Cities
Occupy Wall Street: New York police begin clearing Zuccotti Park | World news
Judge Lucy Billings, who signed Occupy Wall Street order, is an ACLU veteran 
When the cops raided Zuccotti Park, lawyers for Occupy Wall Street woke up a judge with a civil liberties background and asked for help. Manhattan Supreme Court Justice Lucy Billings signed an early-morning order temporarily barring cops from keeping protesters and tents out of Zuccotti Park.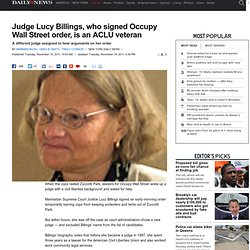 Poetry News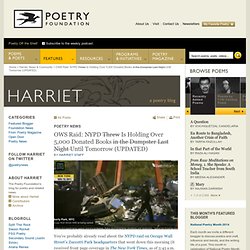 OWS Raid: NYPD Threw Over 5,000 Donated Books in the Dumpster Last Night : Harriet Staff : Harriet the Blog
Here's What Last Night's Occupy Wall Street Raid Looked Like Through Cellphones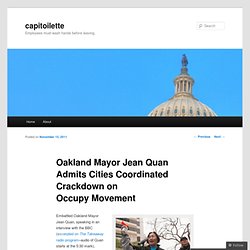 Oakland Mayor Jean Quan (photo: Ella Baker Center)
Oakland Mayor Jean Quan Admits Cities Coordinated Crackdown on Occupy Movement | capitoilette
7.28am / 2.28am ET: The Occupy Wall Street protest camp in New York's Zuccotti Park has been removed by police in an overnight operation. It began around 1am today local time (6am GMT) when officers handed activists, who have been in the park since September, notices from the park owner, Brookfield Office Properties, saying it had to be cleared as it was now insanitary. It's not clear whether the protesters will be allowed to return. New York City's mayor, Michael Bloomberg, has said they should "temporarily leave".
Occupy Wall Street: police evict protesters - live updates | News