Public space ?
"Freedom of Assembly: Public Space Today" by AIA Panel. On December 17, 2011, the New York Chapter of the AIA held a panel discussion about the Occupy Wall Street events that have spurred people from all over the country into political involvement.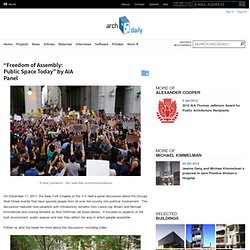 The discussion featured nine panelists with introductory remarks from Lance Jay Brown and Michael Kimmelman and closing remarks by Ron Shiffman (all listed below). It focused on aspects of the built environment, public spaces and how they reflect the way in which people assemble. Follow us after the break for more about this discussion, including video. Police Clear Zuccotti Park With Show of Force, Bright Lights and Loudspeakers.
Just How Much Can the State Restrict a Peaceful Protest? If the First Amendment guarantees the right to peaceful protest, why do peaceful protesters get arrested — and sometimes pepper-sprayed and beaten up?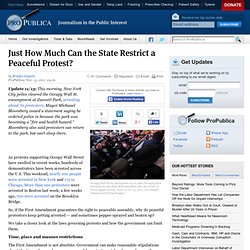 We take a look at the legal precedents. Update 11/15: This morning, New York City police cleared the Occupy Wall St. encampment at Zuccotti Park, arresting about 70 protesters [1]. Mayor Michaael Bloomberg issued a statement saying he ordered police in because the park was becoming a "fire and health hazard. " The NYPD Emptied Zuccotti Park in the Middle of the Night - National. Sometime around 1:00 a.m. on Tuesday morning, New York City police officers moved in on Zuccotti Park, ejecting Occupy Wall Street protesters and clearing the camp of their tents and belongings.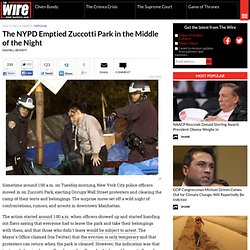 The surprise move set off a wild night of confrontations, rumors, and arrests in downtown Manhattan. The action started around 1:00 a.m. when officers showed up and started handing out fliers saying that everyone had to leave the park and take their belongings with them, and that those who didn't leave would be subject to arrest. Live Updates: Standoff at Zuccotti Park. Update (7:03 p.m.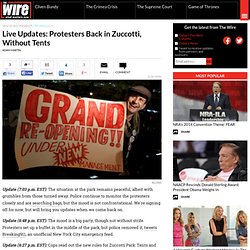 EST): The situation at the park remains peaceful, albeit with grumbles from those turned away. Police continue to monitor the protesters closely and are searching bags, but the mood is not confrontational. Zuccotti Park Eviction: NYPD Orders Occupy Wall Street Protesters To Temporarily Evacuate Park [LATEST UPDATES] Share + Via HuffPost Miami: When an Occupy Miami member offered evicted protestors vacant apartments in a building he owns in Downtown Miami's Overtown neighborhood, it seemed like the perfect solution: the 'Peace City' space would provide headquarters for the movement and shelter a small faction of the group's most vulnerable members.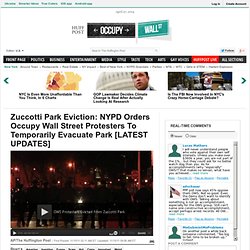 But it hasn't gone well. Other tenants say the building has become a cesspool of drug use and violence while non-resident Occupy Miami members are trying to distance themselves from the 'radicals' -- all while the two factions are wrestling for control over Occupy Miami's social media sites and future plans. From the Miami New Times: People Habitat: Public Space in Cities. Environmental advocates have long given priority to protecting natural ecosystems and wildlife habitat.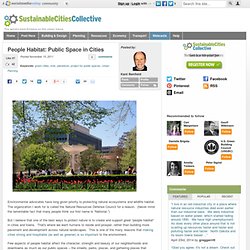 The organization I work for is called the Natural Resources Defense Council for a reason. (Never mind the lamentable fact that many people think our first name is "National.") But I believe that one of the best ways to protect nature is to create and support great "people habitat" in cities and towns. That's where we want humans to reside and prosper, rather than building more pavement and development across natural landscapes. This is one of the many reasons that making cities strong and hospitable (as well as greener) is so important to the environment. Judge Lucy Billings, who signed Occupy Wall Street order, is an ACLU veteran  When the cops raided Zuccotti Park, lawyers for Occupy Wall Street woke up a judge with a civil liberties background and asked for help.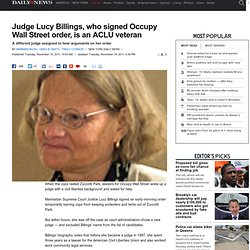 Manhattan Supreme Court Justice Lucy Billings signed an early-morning order temporarily barring cops from keeping protesters and tents out of Zuccotti Park. But within hours, she was off the case as court administrators chose a new judge — and excluded Billings' name from the list of candidates. Billings' biography notes that before she became a judge in 1997, she spent three years as a lawyer for the American Civil Liberties Union and also worked work community legal services. "I have devoted my career to public service, especially the disadvantaged in desperate circumstances," she wrote in a 2007 pre-election statement.
Lawyers for Occupy Wall Street phoned Billings after cops moved into Zuccotti Park early Tuesday, evicted the protesters and got rid of their tents and other camp equipment. OWS Raid: NYPD Threw Over 5,000 Donated Books in the Dumpster Last Night : Harriet Staff : Harriet the Blog. Poetry News By Harriet Staff You've probably already read about the NYPD raid on Occupy Wall Street's Zuccotti Park headquarters that went down this morning (it received front page coverage in The New York Times, as of 3:45 a.m.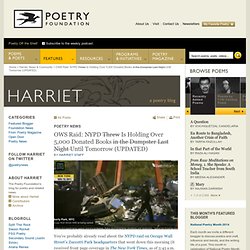 EST). Facebook and Twitter posts have been quick to inform us with the latest updates; one of the most shocking is confirmation that the over 5,000 books in The People's Library, donated over 60 days of occupation to build a much-talked-about collection of literature–along with a parkful of tents, equipment, and personal items–were thrown in the trash.
Here's What Last Night's Occupy Wall Street Raid Looked Like Through Cellphones. Oakland Mayor Jean Quan Admits Cities Coordinated Crackdown on Occupy Movement | capitoilette. Oakland Mayor Jean Quan (photo: Ella Baker Center) Embattled Oakland Mayor Jean Quan, speaking in an interview with the BBC (excerpted on The Takeaway radio program–audio of Quan starts at the 5:30 mark), casually mentioned that she was on a conference call with leaders of 18 US cities shortly before a wave of raids broke up Occupy Wall Street encampments across the country.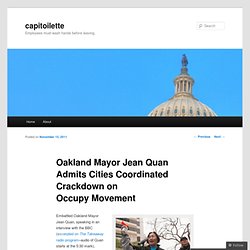 "I was recently on a conference call with 18 cities across the country who had the same situation. . . ." Mayor Quan then rambles about how she "spoke with protestors in my city" who professed an interest in "separating from anarchists," implying that her police action was helping this somehow. Occupy Wall Street: police evict protesters - live updates | News. 7.28am / 2.28am ET: The Occupy Wall Street protest camp in New York's Zuccotti Park has been removed by police in an overnight operation.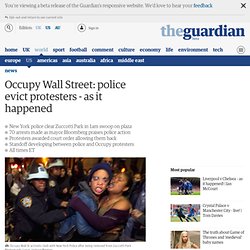 It began around 1am today local time (6am GMT) when officers handed activists, who have been in the park since September, notices from the park owner, Brookfield Office Properties, saying it had to be cleared as it was now insanitary. It's not clear whether the protesters will be allowed to return. New York City's mayor, Michael Bloomberg, has said they should "temporarily leave".
---