Library
Carlos Santamaría Centre by JAAM. Photographer Iñigo Bujedo Aguirre has sent us these photographs of a curved concrete library in San Sebastian with a narrow courtyard driven through its centre.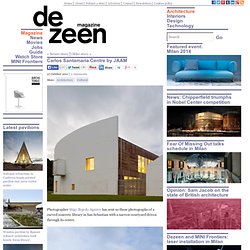 Completed in 2008 by Ander Marquet Ryan of Spanish architects JAMM, the Carlos Santamaría Centre is located on the campus of the University of the Basque Country. Timber-panelled walls surround the secluded courtyard, which separates the two-storey building into two asymmetrical halves. The library's book collection is housed on two storeys of the larger half, while the smaller part contains separate study rooms and a lecture theatre. Liyuan Library by Li Xiaodong. Architect Li Xiaodong has completed a library in China that's covered in firewood.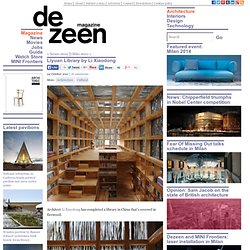 Located on the outskirts of Beijing, the single-storey Liyuan Library houses its collection of books within a chunky timber frame. Stepped platforms integrate low level shelves and provide seating areas for readers. The sticks cover a glazed shell that encases the library. We've also featured a library in Japan with an exterior of timber bookshelves covered by glass and another in Germany with a golden facade - see more stories about libraries here. Photography is by Li Xiaodong. Musashino Art University Museum & Library / Sou Fujimoto.
Architects: Sou Fujimoto Location: Tokyo, Japan Client: Musashino Art University Project Year: 2010 Project Area: 2,883.18 sqm Photographs: Daici Ano One of the most interesting projects I've seen in a while, the Musashino Art University Museum & Library proposes a new relation between the user and the books, surrounded and sheltered by them.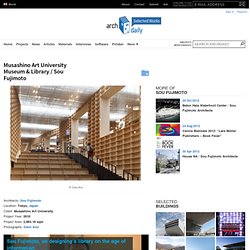 We had the chance to ask Sou Fujimoto about the challenge of designing this program in the information age, as you can see on the above video. More info after the break: This project is a new library for a highly distinguished art universities in Japan. It involves designing a new library building and refurbishing the existing building into an art gallery, which will ultimately create a new integration of the Library and the Art Gallery. Library Of The Present: Communal Information In Physical Space. The Internet is now the library of the past.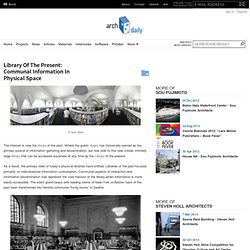 Where the public library has historically served as the primary source of information gathering and dissemination, we now look to this new virtual, infinitely large library that can be accessed anywhere at any time as the Library of the present. As a result, the primary roles of today's physical libraries have shifted. Libraries of the past focused primarily on individualized information consumption.
Kirkwood Public Library / ikon.5 architects - Kirkwood Public Library / ikon.5 architects (159331) - ArchDaily.
---