DESIGN
Polymorphic is a kinetic installation utilizing an innovative design and engineering solution inspired by the simple kinetic action of a see-saw and the reverberating motion of a Slinky.
Polymorphic – a kinetic installation created by students | Visuall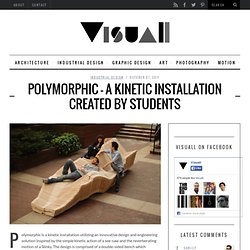 Design Thinking for Startups - Are You Design Driven?
BMW Builds a Shape-Shifting Car Out of Cloth | Autopia
Concept cars give automotive designers a chance to let their imaginations run wild, often with outlandish results.
The winner of a new generation of electricity pylons is announced | Environment
Dezeen Screen » video Archive » Tales of the Hunt: Tom Price