DESIGN
Yes, this can be a scary topic: machines designed to influence human beliefs and behaviors. But there's good news. We believe that much like human persuaders, persuasive technologies can bring about positive changes in many domains, including health, business, safety, and education. We also believe that new advances in technology can help promote world peace in 30 years.
Polymorphic is a kinetic installation utilizing an innovative design and engineering solution inspired by the simple kinetic action of a see-saw and the reverberating motion of a Slinky. The design is comprised of a double-sided bench which transforms through a series of 119 unique and interconnected sections into a chaise lounge and finally an interactive balance board. The sections are connected via an inventive pivot and bolt system which allows the vertical movement of one section to be picked up by others down the line. Together, this motion allows the installation to transform from a series of leveled sections into an undulating form activated through interaction with its occupants. While the overall form of the bench is realized as a continuous landscape, each seating condition was designed according to existing ergonomic profiles in order to maximize comfort and functionality.
Polymorphic – a kinetic installation created by students | Visuall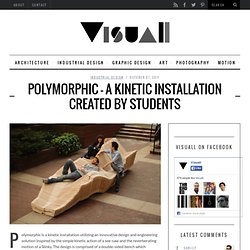 Design Thinking for Startups - Are You Design Driven?
53,095 views Featured in: Design, Technology This presentation provides some best practices and tools to help small business entrepreneurs and startup founders in creating a culture of innovation. ...
BMW Builds a Shape-Shifting Car Out of Cloth | Autopia
Concept cars give automotive designers a chance to let their imaginations run wild, often with outlandish results. But even by that measure, BMW has come up with something as strange as it is innovative — a shape-shifting car covered with fabric. Chris Bangle, head of design for BMW, says GINA allowed his team to "challenge existing principles and conventional processes." "It is in the nature of such visions that they do not necessarily claim to be suitable for series production," company officials said in unveiling the car Tuesday.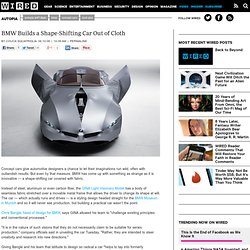 The winner of a new generation of electricity pylons is announced | Environment
Dezeen Screen » video Archive » Tales of the Hunt: Tom Price