To Read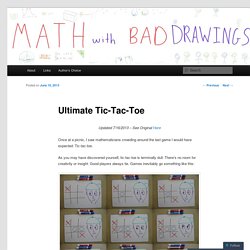 Ultimate Tic-Tac-Toe | Math with Bad Drawings
Once at a picnic, I saw mathematicians crowding around the last game I would have expected: Tic-tac-toe. As you may have discovered yourself, tic-tac-toe is terminally dull.
A Woman Of Some Importance: Sabine Spielrein, one of Karl Jung's celebrated patients, later became a psychiatrist herself — and, as screenwriter Christopher Hampton tells NPR's Rachel Martin, an influence on both Jung and Sigmund Freud. Keira Knightley plays Spielrein in the new film A Dangerous Method. Sony Pictures Classics Carl Jung and Sigmund Freud are known as the fathers of psychoanalysis, but they focused on different things. Freud's attention was on the sexual underpinnings of — well, almost everything — and Jung was known for his mystical bent and dream theories. For years, the two were close friends and collaborators but they had a falling out that ultimately ended their relationship.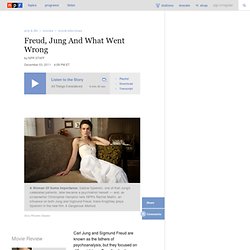 'Dangerous Method': Freud, Jung And What Went Wrong
Afghan Rape Victim Pardoned After Agreeing To Marry Her Attacker : The Two-Way
An Afghan woman who was sentenced to prison after being raped by a relative — because in the eyes of authorities she had committed adultery — has been pardoned by President Hamid Karzai. But her freedom comes with a price, according to news reports: She must become the second wife of the man who attacked her. Karzai's office says the woman and her attacker both have agreed to the marriage.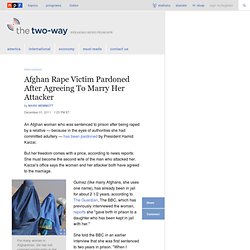 LOUISVILLE, Ky. -- A tiny all-white Appalachian church in rural Kentucky has voted to ban interracial couples from joining its flock, pitting members against each other in an argument over race. Members at the Gulnare Free Will Baptist Church voted Sunday on the resolution, which says the church "does not condone interracial marriage." The church member who crafted the resolution, Melvin Thompson, said he is not racist and called the matter an "internal affair." "I am not racist. I will tell you that.
Small Ky. Church Votes Against Interracial Couples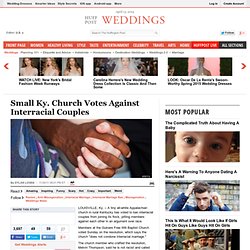 The Whovians Prayer