Sexual Orientation
One Town's War on Gay Teens | Politics News. Ishai_wallace: Judy Shepard does not speak for me. I had the obligation this week of attending a talk by Judy Shepard.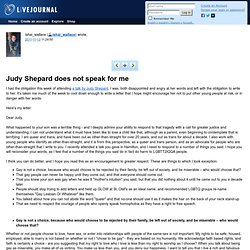 I was, both disappointed and angry at her words and left with the obligation to write to her. It's taken me much of the week to cool down enough to write a letter that I hope might encourage her not to put other young people at risk, or in danger with her words. Here's my letter:
G
B. Marriage. Home Page. Same-sex marriage could become law: Smith. Labor frontbencher Stephen Smith says a bill on same-sex marriage could pass through parliament if all parties agree to a conscience vote on the issue.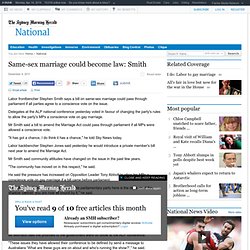 Delegates at the ALP national conference yesterday voted in favour of changing the party's rules to allow the party's MPs a conscience vote on gay marriage. Mr Smith said a bill to amend the Marriage Act could pass through parliament if all MPs were allowed a conscience vote. "It has got a chance, I do think it has a chance," he told Sky News today.
---