GT
Skill Level: Intermediate Dan Norton This session is centered on demonstrating ways that CollegiateLink can assist with tracking students' co-curricular involvement.
Campus Labs - Products - CollegiateLink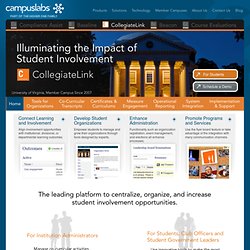 Princeton Student Groups is a forum for the many different student-run organizations at Princeton University. Participating groups have a profile containing a variety of information, including the group description, officers, and a public newsfeed. The site provides tools both for non-members (to keep abreast of the latest updates) as well as for members of student organizations (to communicate and coordinate group activities).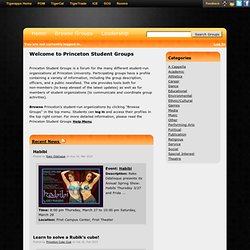 Princeton University Student Groups
National University Methodology Schools in the National Universities category, such as the University of Chicago and the Massachusetts Institute of Technology, offer a full range of undergraduate majors, plus master's and Ph.D. programs. These colleges also are committed to producing groundbreaking research.