Asexulity
Asexuality and Sexual Fluidity | Good Vibrations Blog. I once knew a guy who started every one of our few and far between conversations with this line: "So, are you still asexual?"
The third or fourth time he asked me that question, I got irritated and asked him to stop saying it every time we spoke. Want to guess his reaction? Discord Comics - Shades Cover. Asexuality Object Fetishes and Other 21st Century Phenoms 05/04 by Seriously Sexual. Explicit follow Call in to speak with the host Join us at our regularly scheduled time for another rousing episode of Seriously Sexual.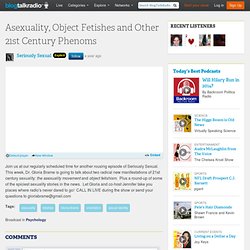 This week, Dr. Human. « just a spinster. A popular response to young (and sometimes old) asexuals is to tell them that they will "grow out of it."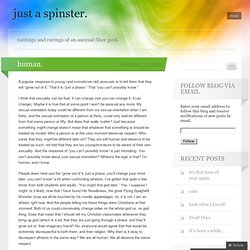 That it is "just a phase." That "you can't possibly know." Asexual Advice. Anonymous asked: Hi!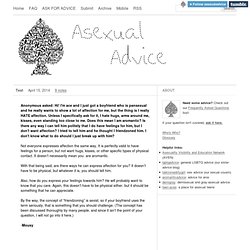 I'm ace and I just got a boyfriend who is pansexual and he really wants to show a lot of affection for me, but the thing is I really HATE affection. Unless I specifically ask for it, I hate hugs, arms around me, kisses, even standing too close to me. March 25, 2008 Dr. David McKenzie: "Asexuality and Sexual Orientation" This is your chance to effect what students in 4 human sexuality classes learn about #asexuality. Alright, so it's that time of the semester again!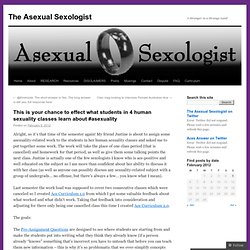 My friend Justine is about to assign some asexuality-related work to the students in her human sexuality classes and asked me to put together some work. The work will take the place of one class period (that is cancelled) and homework for that period, as well as give them some talking points the next class. Human Rights Petition: Executive Producers of House: Reconsider your portrayals of asexual characters!
Asexual people, grey-a's and our allies fight every day to be accepted in a world which assumes that people who do not experience sexual attraction are broken.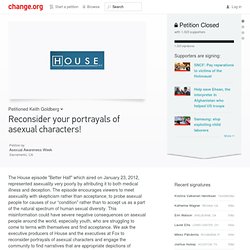 The House episode "Better Half", aired on January 23rd, 2012, reinforced this assumption. It portrayed two characters whose asexuality was dismissed as being caused by either medical pathology or deception. The episode begins by portraying... The episode begins by portraying asexuality appropriately; this meaningful work is immediately undercut with the resolution of the episode. Asexuality: Shit Sexual People Say (to Asexual People) Edit: This call for collaboration is now over, and the video is made: original post continues below.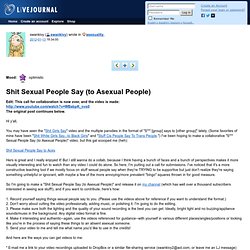 Hi y'all, You may have seen the "Shit Girls Say" video and the multiple parodies in the format of "S*** [group] says to [other group]" lately. (Some favorites of mine have been "Shit White Girls Say...to Black Girls" and "Stuff Cis People Say To Trans People. ") I've been hoping to make a collaborative "S*** Sexual People Say (to Asexual People)" video, but this gal scooped me (heh): Asexuality. "OK," writes Annette, in an introductory email: "I am 47 but look younger, probably because I take good care of myself and also do not have the stress of a husband and kids.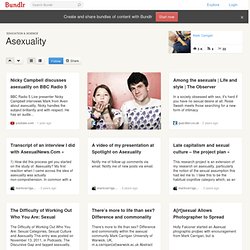 " At first glance it reads like the "describe yourself" section of a dating site, which is ironic, considering that Annette is one of several people responding to my search for case studies on a forum for people who are asexual. That is, people who have little to no interest in sex. "I live in a dull suburb in Minnesota and right now I'm eating lunch (and typing) at the law firm where I work as a paralegal.
Asexuality. Audio. A[RT]SEXUAL. In between gorging on bad television and family gossip this Christmas, I realised something pretty great.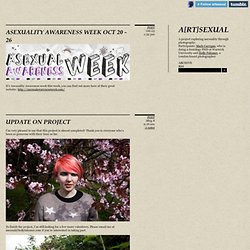 My family - all of them, even the most religious of aunts, now accept my sexuality. I'm not even a curiosity anymore - questions about my girlfriend slip in easily in between holiday and baby chat. Asexual_fandom | 101 Asexy Sex Scenes. Captain Heartless! | Hidden Sexual Normativity.
(a)sexual documentary
Research. Videos. Articles. View topic - The Storms model. I read the article about bisexuality and have decided that the instrument they used is not reliable at all.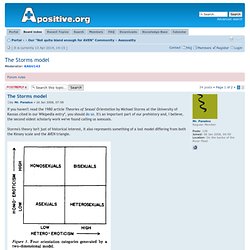 There is a correlation with self-reported sexual orientation and genital response in males, but it isn't a very good one--not nearly good enough to reliably predict/find out someone's sexual orientation. And some people did have bisexual response, but the article ignored them because they had self-reported Kinsey scores of 0 and 6. So now I'm back on board with the 2-Dimensional scale for sexual orientation. Map of AceSexologist.
---