Straw Bale Culture
For those of you who may have physical limitations doing tradtional gardening, you may want to try straw bale gardening. Even wheel chair-bound folks can take advantage of this method. I've been a traditional gardener all my life, but tried straw bale gardening last year as well.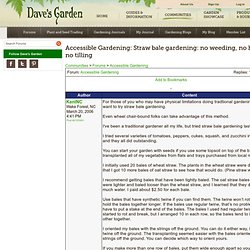 Accessible Gardening: Straw bale gardening: no weeding, no hoeing, no tilling
Salad Greens growing in straw bales were featured in our display garden at the 2004 Northwest Flower and Garden Show in Seattle. I designed this vegetable garden to promote Plant A Row For The Hungry, a project of the Garden Writers Association. Over 75,000 people visited this five day gardening extravaganza to see beautiful gardens, attend lectures, shop, and learn new gardening techniques. Our garden, constructed and prepared by fellow GWA members, Pierce County Washington Master Gardeners and Lake Washington Technical College students, friends and family earned a gold medal and the prestigious People's Choice" award. We featured a few ideas that you will see in our demonstration garden here at Nichols this summer.
Nichols Garden Nursery