Herbs
Tower of Herbs
Herb Gardening Guide | Information How To Grow Culinary & Medicinal Herbs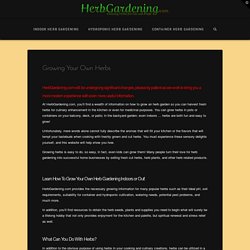 At HerbGardening.com, you'll find a wealth of information on how to grow an herb garden so you can harvest fresh herbs for culinary enhancement in the kitchen or even for medicinal purposes. You can grow herbs in pots or containers on your balcony, deck, or patio; in the backyard garden; even indoors ... herbs are both fun and easy to grow! Unfortunately, mere words alone cannot fully describe the aromas that will fill your kitchen or the flavors that will tempt your tastebuds when cooking with freshly grown and cut herbs. You must experience these sensory delights yourself, and this website will help show you how. Growing herbs is easy to do, so easy, in fact, even kids can grow them!
Herb pot for vegetable dishes | Pots & containers | Plants | BBC Gardeners' World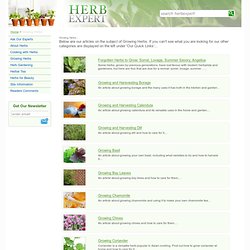 Home > Growing Herbs Growing Herbs... Below are our articles on the subject of Growing Herbs. If you can't see what you are looking for our other categories are displayed on the left under 'Our Quick Links'...
Growing Herbs by Herb Expert (UK)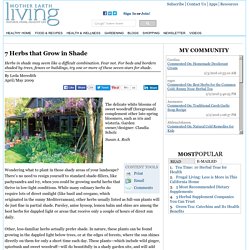 Herbs in Shade: 7 Herbs that Grow in Shade
By Leda Meredith April/May 2009 The delicate white blooms of sweet woodruff (foreground) complement other late-spring bloomers, such as iris and wisteria. Garden owner/designer: Claudia Scholz Susan A. Roth