Desserts
Get flash to fully experience Pearltrees
So, have you been on the lookout for an incredibly good caramel popcorn recipe? These ones are gonna knock you over! No – really ! These are that good. And if they were that good and a pain to make – it still wouldn't be worth the trouble.
Recently a friend asked me to bake for an upcoming party she's having, so I've been researching all kinds of bite-sized dessert canapés . One recipe that caught my attention is from BHG ; a rich mousse that is served in the bowl of a teaspoon. The mousse sounds inviting, but I'm not sure I want to commit a good portion of flatware to the project (32 spoons!). The idea of a disposable plastic spoon came to mind, but for a single bite - well, that would be environmentally unsound and just too wasteful. Then, it came to me suddenly.
Of all the nostalgic desserts to revive, I think this one is most fashionably worthy. This cake is based on a recipe that ran on the back of Jello boxes during the late 1950's. Long gone are the days when Crown Jewel Cake ( a.k.a. Broken Glass Cake) was made with powdered, processed, and if I may say - oldfangled - dream whip .
This may be a tiny bit early but I figure, school's in and the weather is changing... it's time. I've already started Autumnal baking. This means cinnamon scents and pumpkin flavored treats are well underway. Though I'm saving my pumpkin stash for goodies like this , I'll gladly take sweet potatoes as a very Southern stand-in. This was my first batch of Whoopie pies ever .
I'll be the first to admit that I've been to Starbucks a little too often since the Pumpkin Spice Latte has been back on the market. There's something so lovely about spiced coffee... it makes you feel cozy and assures you that fall has truly arrived. I've been so impressed with the many food bloggers who have tried their hand at a copycat recipe, and there are a few I can't wait to try. (Like this one !) Needless to say, this dessert was inspired by that same cozy drink, and it was an instant favorite at my house.
Sushi and Tiramisu, what a beautiful hybrid. I first saw this recipe in Demolition Desserts , the cookbook by Elizabeth Faulkner. If you are a sushi lover like me, and like to make sweets like this then you'll be as excited as I am about this dessert. I had to make the sponge cake portion of this recipe twice. The first time I followed the instructions to the letter, and the cake broke apart as I rolled it.
Have you heard about the Great Canned Pumpkin Shortage of 2009 ? If you are a baker, perhaps you have. I noticed this in October.
This is probably going to be one of the longest posts in the history of blogdom, but I hope to pass along some very helpful tips on creating a beautiful Bûche de Noël. I love this cake because it is so woodsy and heartwarming. I decided to start this project on December 21st, the shortest day and longest night of the year, Winter Solstice. The instructions below are a time-line of the cake's assembly. Instead of creating a separate post on how to make meringue mushrooms, I've included it in the time-line of this cake. Recipes will be provided at the end of the post for exact measurements.
About a month ago I received an email from a California based green-tea company. In the letter I was very kindly asked if I would share my Matcha Biscotti recipe and photos for their monthly newsletter. Of course I said "heck yeah!" with Napoleonic (Dynamite) enthusiasm.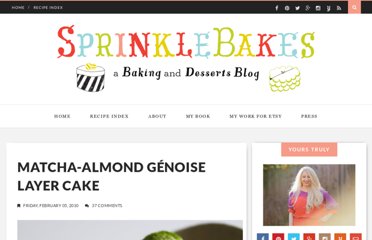 I had very nearly forgotten about butter mints until Kristan (lover of all things sparkly, and most certainly a cookbook queen ) made some for a virtual baby shower last week. I decided to take another look at my own recipe for butter mints and give it a complete makeover. Butter mints have always been standard shower fare here in the south. Although innocent looking, they are unapologetically sweet and best taken in small doses. Eating one is like taking a strait shot of minty buttercream icing.
2010 is almost a memory, and what remains is mostly the bitter-sweet disassembling of Christmas. I've been finding pieces of packaging shrapnel from eager gift opening and the odd half-eaten piece of Christmas candy (a sure sign of overindulgence). For me, these days-after feel a little awkward, but reflecting on the year fills my glass half-full again. So many amazing things happened, and I am hopeful that 2011 will be even better!