Aquaponics
Art of Vertical Gardens, Healthy and Spectacular | BarefootFloor.com. Vertical Art Garden.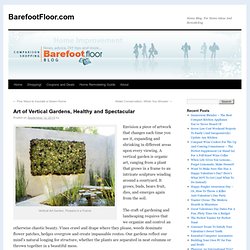 Flowers in a Frame. Envision a piece of artwork that changes each time you see it, expanding and shrinking in different areas upon every viewing. Urban Garden Magazine | Recirculation Basics - Part 3. What all Hydroponic Growers Need To Know About Nutrient Recirculation As we've learned in part 1 and part 2 , in order to grow successfully in a hydroponic system, there are certain basics that always need to be kept in check: otherwise, plant performance inevitably suffers.
After covering source water, nutrient and pH, world-renowned hydroponics expert Michael Christan breaks down the final ingredients of a healthy indoor growing environment: oxygen, light, temperature, humidity, air circulation and CO2. Photos courtesy of AmHydro. The 5 basics of recirculation and plant performance: 1. Aquaponic Gardening Rules of Thumb | The Aquaponic Source.
Many of our Aquaponic Gardening Community have pointed out that we need some basic aquaponic gardening rules of thumb.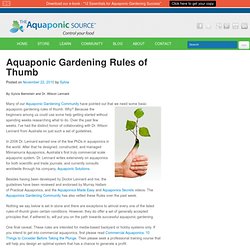 Why? Because the beginners among us could use some help getting started without spending weeks researching what to do. Over the past few weeks, I've had the distinct honor of collaborating with Dr. Aquaponics, Hydroponics, Organic - Systems, Consulting, Information, Design and Kits. Growing Vegetables in Rain Gutters from Seed to Harvest. Aquaponics using rain gutter update october15,2010. Urban Aquaponics Forum. Urban Aquaponics - Oxygen - Sizing your Aquaponic Air System. The success of an aquaponic or aquaculture venture depends on providing as near an optimum environment for the rapid growth of the fish as possible.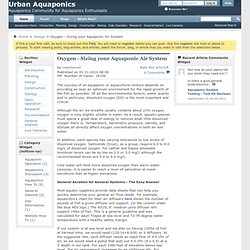 Of all the environmental factors, water quality and in particular, dissolved oxygen (DO) is the most important and critical. Although the air we breathe usually contains about 21% oxygen, oxygen is only slightly soluble in water. As a result, aquatic species must spend a great deal of energy to remove what little dissolved oxygen there is. Temperature, barometric pressure, salinity, and altitude all directly affect oxygen concentrations in both air and water. Aquaponics 101 – Chicken sh#t and Swimming Pools « SYNAPTOMAN. A typical day in the life of Synaptoman.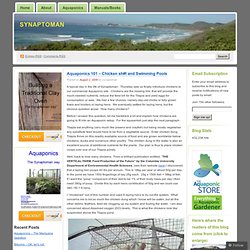 Thursday saw us finally introduce chickens to our commercial Aquaponic site. Chickens are the missing link, that will provide the much-needed nutrients, reduce the feed bill for the Tilapia and yield eggs for consumption or sale. We had a few choices. namely day-old chicks or fully grown fowls and broilers or laying hens. We eventually settled for laying hens, but the obvious question arose. Aquaponics Library - Aquaponics. Aquaponics Group Resource Site 'Aquaponics' is a simple and innovative system of food production combining aquaculture and hydroponic growing techniques.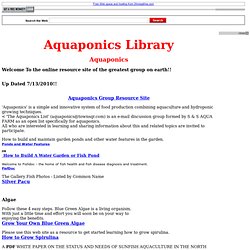 < 'The Aquaponics List' (aquaponics@townsqr.com) is an e-mail discussion group formed by S & S AQUA FARM as an open list specifically for aquaponics. All who are interested in learning and sharing information about this and related topics are invited to participate. Ozzies' Aquaponics Digest. Rocket Science – An edible rooftop garden in Portland - City Farmer News. Photo by Kym Pokorny from her blog "Dig in with Kym".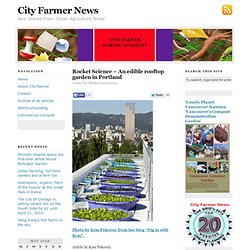 Article by Kym PokornyThe Oregonian October 2007 From atop the Rocket building, there's no doubt you're smack in the middle of a city. Swing around in a circle and you'll see the sun going down on Big Pink, the arching Fremont Bridge thronged with traffic, the new aerial tram creeping up the hill to OHSU and the green-and-white 7-UP building plunked down squarely to the east. Murray Hallams Practical Aquaponics. Aquaponics, Hydroponics & Aquaculture (Part 1) Aquaponics 4 You - Step-By-Step How To Build Your Own Aquaponics System. "Break-Through Organic Gardening Secret Grows You Up To 10 Times The Plants, In Half The Time, With Healthier Plants, While the "Fish" Do All the Work..."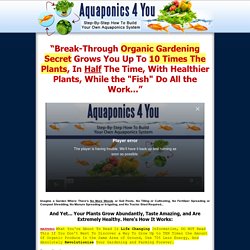 Imagine a Garden Where There's No More Weeds or Soil Pests, No Tilling or Cultivating, No Fertilizer Spreading or Compost Shredding, No Manure Spreading or Irrigating, and No Tractor Shed Required... And Yet... Your Plants Grow Abundantly, Taste Amazing, and Are Extremely Healthy. What is Aquaponics? Aquaponics is an integrated aquaculture (growing fish) and hydroponic (growing soilless plants) system that mutually benefits both environments.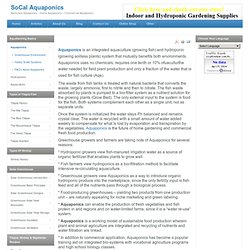 Aquaponics uses no chemicals, requires one tenth or 10% ofuaculturthe water needed for field plant production and only a fraction of the water that is used for fish culture (Aqe). The waste from fish tanks is treated with natural bacteria that converts the waste, largely ammonia, first to nitrite and then to nitrate. The fish waste absorbed by plants is pumped to a bio-filter system as a nutrient solution for the growing plants (Grow Bed).
Backyard or Hobby Scale Systems. Aquaponics is a great hobby or way to grow your own food in your own backyard.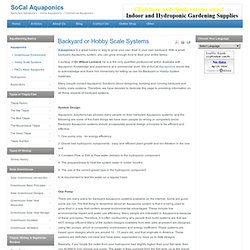 With a small backyard Aquaponic system, you can grow enough food to feed your entire family. Courtesy of Dr. Wilson Lennard, he is is the only qualified professional within Australia with Aquaponic Knowledge and experience at a commercial level. Aquafarm.
---