Animals
Lions love. Knut. Knut, the polar bear whose famously cute visage landed him a Vanity Fair cover and earned him legions of fans back when he was a cub in 2006 and 2007, died over the weekend of unknown causes.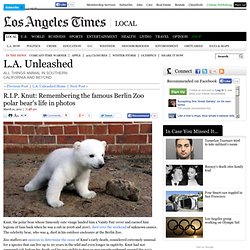 The celebrity bear, who was 4, died in his outdoor enclosure at the Berlin Zoo. Zoo staffers are anxious to determine the cause of Knut's early death, considered extremely unusual for a species that can live up to 20 years in the wild and even longer in captivity. Knut had not appeared sick before his death and he was visible to 600 or 700 people gathered around the zoo's polar bear enclosure at the time of his death on Saturday.
Although it's hard to believe this beloved bear -- frozen in so many fans' memories as an energetic, full-of-life cub -- is gone, we had to smile when looking back over some of his earliest photos. Bird pic. 70 Cutie Baby Animals. Cuteness is usually characterized by some combination of infant-like physical traits, especially small body size with a disproportionately large head, large eyes, and round and softer body features.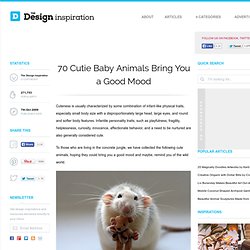 Infantile personality traits, such as playfulness, fragility, helplessness, curiosity, innocence, affectionate behavior, and a need to be nurtured are also generally considered cute. To those who are living in the concrete jungle, we have collected the following cute animals, hoping they could bring you a good mood and maybe, remind you of the wild world. Iquisitive beluga whale pic. Otter Pic. Animal Cartoons. Black and White Old Pictures of Pets. Funny Pics. Amusing Video. LOL Animal Pics. Heartwarming Story. Very Cool Video of Bird Flight.
---