ADLMobile Resources
Twitter. ADL Newsletter for Mobile Learning - Newsletter Archives. Advanced Distributed Learning Initiative » Mobile Learning. Synopsis The ADL Mobile Learning Team strives to be the source of information and support for DoD mobile learning initiatives.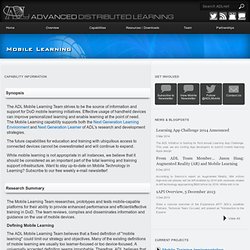 Effective usage of handheld devices can improve personalized learning and enable learning at the point of need. mLearning Guide. Mobile Learning Handbook. This ADL Mobile Learning Handbook is a compilation of mobile learning resources.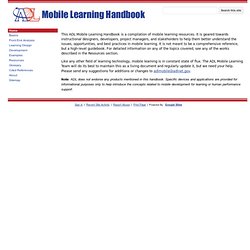 It is geared towards instructional designers, developers, project managers, and stakeholders to help them better understand the issues, opportunities, and best practices in mobile learning. It is not meant to be a comprehensive reference, but a high-level guidebook. ADL Mobile - home.
---