System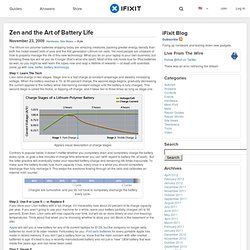 Zen and the Art of Battery Life « iFixit Blog
The lithium-ion polymer batteries shipping today are amazing creatures, packing greater energy density than both the nickel-based cells of yore and the first generation Lithium-ion cells. Yet most people are unaware of how to properly manage the life of this new technology. What you do on your laptop is your own business, but following these tips will let you do it longer (that's what she said!). Most of this info holds true for iPod batteries as well, so you might as well learn the ropes now and reap a lifetime of rewards — at least until scientists come up with new , better , battery technology .
How to reset your Mac OS X password without an installer disc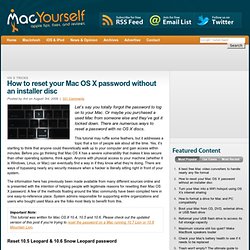 Posted by Ant on August 3rd, 2009 at 12:28 PM | 272 Comments Let's say you totally forgot the password to log on to your Mac. Or maybe you purchased a used Mac from someone else and they've got it locked down.
Problems from insufficient RAM and free hard disk space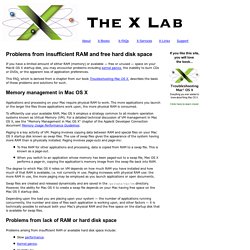 If you have a limited amount of either RAM (memory) or available — free or unused — space on your Mac® OS X startup disk, you may encounter problems including kernel panics , the inability to burn CDs or DVDs, or the apparent loss of application preferences.
This FAQ provides recommendations for optimizing Mac® OS X performance.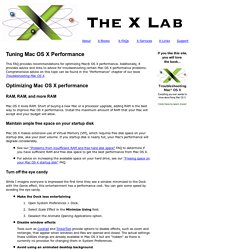 Your Mac stores certain settings in a special memory area even if it is turned off. On Intel-based Macs, this is stored in memory known as NVRAM; on PowerPC-based Macs, this is stored in memory known as PRAM.
Resetting your Mac's PRAM and NVRAM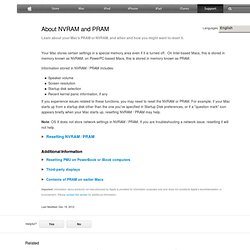 Come si modifica il file hosts su Mac OS X? Può capitare alcune volte di sviluppare un nuovo sito e di dover inserire un nuovo record nel file hosts per vedere il nuovo dominio prima che si propaghi il DNS.
Come si modifica il file hosts su Mac OS X? | milus.it - Milo Maneo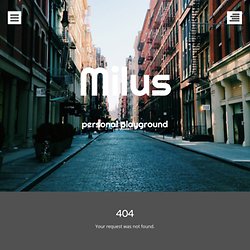 Mac Dev Center: AppleScript Overview: AppleScript Utilities and Applications
Radiopodder: real audio ->mp3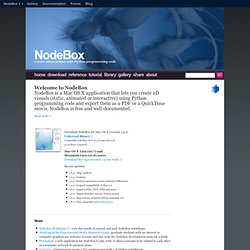 Welcome to NodeBox NodeBox is a Mac OS X application that lets you create 2D visuals (static, animated or interactive) using Python programming code and export them as a PDF or a QuickTime movie. NodeBox is free and well-documented. Read more »
API Reference: Mac OS X Manual Pages