Animation
Another look at Anime
This is a preliminary result of the network of retweets with the hashtag #jan25 at February 11 2011, at the time of the announcement of Mubarak's resignation. If you retweeted someone, or has been retweeted, it is possible that your username is one of these tinny points (or maybe a bigger one?). To collect the network data, I used the Gephi Graph Streaming plugin , connected it to a Python web server I made myself. This web server works like a bridge, it connects to the Twitter Streaming API using the statuses/filter service and converts the users and retweets to nodes and edges in a network format that can be read by the Gephi Graph Streaming plugin. Nodes are twitter users, and links appear between the nodes A and B when B retweeted a message of A containing the hashtag #jan25 .
The Egyptian Revolution on Twitter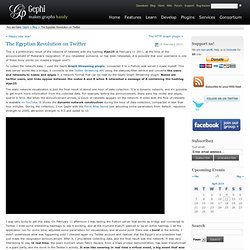 Giving some credit to the finest opening credits ever made. Let's begin at the beginning. Opening titles do more than simply tell you who edited a film or designed its production. At their best, opening title sequences operate on the level of pure cinema, translating a movie's ideas into pure poetic imagery.